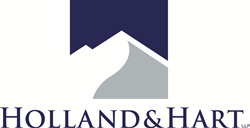 "We look forward to collaborating with Bill and Diana to support the litigation and other needs of our clients, and to leveraging Bill's extensive tax controversy and litigation experience and connections to continue to grow our tax practice nationally."
DENVER, Colorado (PRWEB) May 02, 2019
Holland & Hart announces the addition of tax partner William Colgin and tax associate Diana Myers. Colgin and Myers further strengthen Holland & Hart's growing tax practice. They represent taxpayers ranging from multinational corporations to high-net worth individuals in complex, high-stakes federal tax controversies and litigations, and advise clients through all stages of the tax planning process. Colgin and Myers are the latest addition to the firm's expanding Tax and Benefits Practice, which also recently added one partner and three new associates.
"I am thrilled to join the Holland & Hart family," said Colgin. "I am honored to share the Tax team's longstanding dedication to excellent client service. I am impressed by the firm's commitment to innovative technology solutions that enhance client partnerships. I look forward to working with the firm's Office of Innovation and exploring new ways to continue to optimize client outcomes and drive efficiencies." The Office of Innovation harnesses experts in artificial intelligence, process improvement, and software development to tailor apps, dashboards, web services and other custom technology solutions for clients.
Colgin is nationally renowned for advising clients in IRS examinations, representing clients before the IRS Office of Appeals, and litigating tax cases. He focuses primarily on large-dollar, complicated, and contentious disputes, and will work closely with the Government Investigations and White Collar Defense team on criminal tax matters. Bill litigates in the U.S. Tax Court, federal district courts, state courts, and appellate courts throughout the country on a wide variety of tax issues including international transfer pricing, foreign asset and bank account compliance, intellectual property, economic substance, partnership tax, employment and benefits, and other high-profile areas of tax dispute.
"We are delighted Bill and Diana chose Holland & Hart for the next stage of their careers," said Brenda Berg, the firm's Tax and Benefits Practice Group Leader. "We look forward to collaborating with Bill and Diana to support the litigation and other needs of our clients, and to leveraging Bill's extensive tax controversy and litigation experience and connections to continue to grow our tax practice nationally."
Prior to joining Holland & Hart, Colgin was a partner at Morgan Lewis in Silicon Valley, where he was local practice group leader for the firm's West Coast tax practice. Colgin began his career as a Civil Trial Attorney in the Tax Division of the U.S. Department of Justice with primary case dockets in Colorado, Wyoming, and Utah. Colgin is admitted to practice in California and Virginia, and he is temporarily authorized to practice in Colorado pending admission under C.R.C.P. 205.6.
Myers brings extensive international tax experience from her practice at Baker McKenzie in Chicago. Prior to joining Holland & Hart, she worked for the Chief Tax Strategist at Northern Trust Corporation, covering tax reform legislation for the company and its clients. Myers is admitted to practice in Wyoming, Illinois, and Massachusetts.
About Holland & Hart
Founded in 1947, Holland & Hart is a full-service Am Law 200 firm with offices in eight states and in Washington, D.C. We deliver integrated legal solutions to regional, national, and international clients of all sizes in a diverse range of industries. For more information, visit http://www.hollandhart.com or on Twitter: @HollandHart.