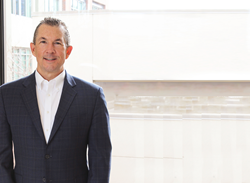 "As technology continues to rapidly evolve, AIPLA is uniquely positioned to engage in education and advocacy, collaborating with IP industry stakeholders to help develop a policy framework that can guide next-generation innovations."
DENVER, Colorado (PRWEB) October 29, 2019
Michael Drapkin, partner and leader of Holland & Hart's electronics and computer patent practice, has joined the Board of Directors of the American Intellectual Property Law Association (AIPLA).
Drapkin counsels some of the world's most innovative technology companies to develop and manage their patent portfolios. He leads a team of more than 50 computer and electrical engineering-focused patent attorneys, agents, and engineers, who prepare and prosecute patents in the U.S. and abroad. This group has collaborated to create new automation and workflow management solutions that deliver efficient, cost-effective legal services.
Founded in 1897, AIPLA is a national bar association that advocates for improvement in laws relating to the full spectrum of intellectual property rights and their proper interpretation by the courts and provides legal education to the public and to its members on intellectual property issues. Its members include lawyers in private and corporate practice, government service and academia.
"I'm very pleased to join the Board and continue my work with AIPLA," said Drapkin, who previously served as Chair of the Association's Professional Programs Committee, in addition to a number of other leadership roles. "Shaping IP law through legislation, regulation, and the courts is integral to maintaining our country's leadership in innovation and facilitating a commitment to the principles of intellectual property rights at home and abroad."
"As technology continues to rapidly evolve, AIPLA is uniquely positioned to engage in education and advocacy, collaborating with IP industry stakeholders to help develop a policy framework that can guide next-generation innovations," added Drapkin.
Drapkin was one of three IP attorneys who spearheaded the successful effort to bring a Regional U.S. Patent and Trademark Office to Colorado in 2014. Drapkin is Editor-in-Chief and Chair of the Editorial Board of the treatise, Patents and Standards: Practice, Policy, and Enforcement, which provides pragmatic guidance for patent practitioners and in-house counsel in the area of standards-essentials patents.
About Holland & Hart
Founded in 1947, Holland & Hart is a full-service Am Law 200 firm with offices in eight states and in Washington, D.C. We deliver integrated legal solutions to regional, national, and international clients of all sizes in a diverse range of industries. For more information, visit http://www.hollandhart.com or on Twitter: @HollandHart.