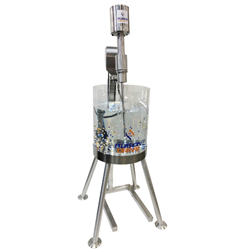 HOLLOWAY AMERICA will showcase its latest products in development, including the new Fusion Drive mixing tank component, at INTERPHEX 2019 in New York City.
SPRINGFIELD, Mo. (PRWEB) March 29, 2019
HOLLOWAY AMERICA, a leading custom manufacturer of stainless pressure vessels, mixing tanks, and other equipment for industries ranging from food and beverage to pharma and chemical, recently announced it plans to attend INTERPHEX 2019 at the Javits Center in New York City from April 2-4. HOLLOWAY, an INTERPHEX exhibitor for the last decade, will showcase and demo its latest products in development, including a new mixer called the FUSIONDRIVE.
About the FUSIONDRIVE Mixer
Currently in development, the FUSIONDRIVE mixer is HOLLOWAY's latest mixing tank innovations. The mixer will come in various configurations including right angle and direct drives and is designed for tanks 1,000 liters or smaller.
"Our new FUSIONDRIVE Mixer is just another way we can meet our customers' demands for turn-key solutions from a trusted partner," said HOLLOWAY AMERICA Sales Engineer Stephen Lamb. "We're excited to share this latest product offering that provides our customers with an expanded mixing experience and Holloway's FUSIONDRIVE VIP Warranty."
At booth 3510 at INTERPHEX, HOLLOWAY representatives will show the FUSIONDRIVE Mixer at work inside a specially-built clear acrylic tank that will showcase the mixer's capabilities with an offset and center mount baffle mixing demonstrations. Representatives will also be available to have informal discussions about the company's complete spectrum of hand-crafted stainless steel mixing tanks and vessels, which range from bioreactors to fermentation vessels to WFI tanks, mixing tanks and more.
About INTERPHEX 2019
For the last 40 years, INTERPHEX is has been the premier exhibition for stainless steel fabrication manufacturing companies, as well as device development and manufacturing suppliers with expertise in the pharmaceutical and biotechnology industries. The expo will run from April 2-4 at the Javits Center, which is located at 655 W 34th St. in New York City. The Javits Center has reserved more than 300,000 square feet of event space to accommodate INTERPHEX 2019's slated attractions, which include pioneering product launches like HOLLOWAY's as well as a keynote presentation series and roundtable discussions. Aside from American companies like HOLLOWAY, industry experts and suppliers from around the world will attend INTERPHEX 2019 to share their own insights and technologies.
About HOLLOWAY AMERICA
HOLLOWAY AMERICA provides pressure vessel fabrication services and stainless steel pressure vessels for a multitude of applications and industries, from pharmaceutical to chemical to food and beverage. HOLLOWAY AMERICA partners with associations representing the steel fabrication and engineering industries, including ASME and ISPE.
For details about the new FUSIONDRIVE mixer or for more information about HOLLOWAY AMERICA's other products, contact Stephen Lamb at 417.863.0077 or email info(at)hollowayamerica(dot)com. For information about INTERPHEX 2019, visit interphex(dot)com.