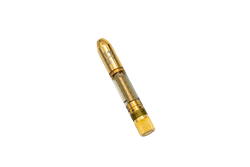 "Our oil looks different from most on the market because we focus on yielding the purest distillate possible," said Hollowtips CEO Michael Tu.
LOS ANGELES (PRWEB) August 24, 2020
Hollowtips announced today its award-winning line of vape products featuring their signature Delta 9 "Water Clear" THC distillate are now available at numerous dispensaries throughout California. While most cannabis oil typically have a honey-colored hue, Hollowtips oil is unique in that it is clear as water. The company prides itself not only on the clarity and potency of their distillate, but delivering top-of-the-line cannabis products that meet the highest standards of safety and quality.
"Our Delta 9 oil looks different from most on the market and we focus on yielding the purest distillate possible," said CEO Michael Tu. "The care and effort we put into the development of our oil also resonates in our hardware – from the luxurious 24K gold finishes and the monogrammed vape pen case to our collectible magnetic bullet bottom cap on our cartridges."
Currently, Hollowtips creates their oil by using a hydrocarbon extraction method where it undergoes several phases of extraction, filtration and purification. The final phase involves the use of chromatography during which the yellow plant colorant is refined out of the oil to produce their distinctive Delta 9 "water clear" distillate. Their high-quality oil is pesticide-free and does not contain any harsh solvents or additives.
The Hollowtips line of vape products feature:

Delta 9 "Water Clear" THC Distillate – In contrast to the yellow-colored oil typically found on the market, Hollowtips implements additional phases of distillation and refinement to yield their signature oil that is more pure and clear as water.
Patented Design – The patented bullet-shaped cartridges are one-of-a-kind and come with collectible magnetic bottom caps.
Patent-Pending Air Bubble – A unique air-bubble heating chamber that expands your smoke while inhaling, resulting in a more satisfying vaping experience.
"Mini Deuce Deuce" Battery Kit – Two magnetic 510 thread connector comes with every unit, along with a high-caliber circuit board featuring multiple malfunction protection.
"Monogram Pen" Battery Kit – Each crush-resistant case includes an adjustable variable voltage 510 thread battery, a vanity mirror and a sleek 24K gold finished monogram design.
Inhale-Activation – The vape pen is inhale-activated so no need to push any buttons in order to enjoy.
Industry Safety Compliance – The luxurious Hollowtips cartridges are leak-proof, lab-tested and category 3 compliant.
Hollowtips currently offers eight cartridge flavors along with two classy battery options – the "Mini Deuce Deuce" and the "Monogram Pen." The Hollowtips cartridge was most recently featured in the 2020 "Everyone Wins" Nominee Gift Bags given to the top Oscar nominees earlier this year, including Leonardo DiCaprio, Kathy Bates, Charlize Theron, Scarlett Johansson and Brad Pitt. Hollowtips products are currently available at the following dispensaries:
Southern California
1. LA Kush (Los Angeles)
2. Empire Connect (San Bernardino)
3. Empire Twin Palms (Riverside)
4. Red Moon (Van Nuys)
5. HerbanKulture (Santa Ana)
Northern California
6. Flavors (Riverbank)
7. Blue Fire (Merced)
8. Phenos (Modesto)
9. West Coast Green Rush (Livermore)
10. Packs (Stockton)
11. Patient Care First (Modesto)
"California remains the largest market in the cannabis industry and a key focus for Hollowtips," said Tu. "Our goal is to continue expanding our footprint in the Los Angeles region and throughout our home state in the coming months. We're happy to hear that our customers are enjoying it so far and are excited to offer our premium vaporizers to both new and experienced cannabis users."
ABOUT HOLLOWTIPS:
Founded in 2018, Hollowtips LLC is a new innovator in the cannabis industry. The inspiration was to offer consumers a higher-quality brand of products than what they are used to on the market. The Los Angeles-based company proudly launched its line of top-shelf vape cartridges featuring a patented air-bubble chamber, "Water Clear" Delta 9 THC Clear distillate and a 24K gold finish. They also offer apparel and lifestyle merchandise, as well as other premium accessories that complement the brand. Hollowtips products are available at various licensed dispensaries throughout the state of California. For more information, please visit: https://hollowtips.com.
MEDIA CONTACT:
Tran Ngo
media@hollowtips.com