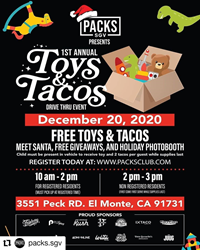 EL MONTE, Calif. (PRWEB) December 17, 2020
WHAT: Hollowtips is a sponsor of Packs Club's First Annual Toys & Tacos Drive Thru Event in the city of El Monte on Sunday, Dec. 20. At this socially distant event, families will enjoy free tacos, meet Santa, participate in a drive-thru holiday photo booth and be gifted with toys for their children. Participants are encouraged to register in advance for their pick-up time.
During these challenging times and with the holidays around the corner, Packs Club, Hollowtips and all the event sponsors wanted to bring some hope and joy to the kids of El Monte, a city where many of the event organizers grew up. The event will be held from 10 a.m-2 p.m. for registered residents and 2-3 p.m. for non-registered residents (first-come, first-served while supplies last). For more information about the event, please visit http://www.packsclub.com.
WHO: Local families, Hollowtips spokesperson, Packs Club (event host) and other event sponsors
WHEN: 10 a.m. – 3. p.m. on Sunday, Dec. 20, 2020
WHERE: 3551 Peck Rd., El Monte, CA 91731
*Plaza located north of the 10 freeway
For media inquiries, please contact:
Tran Ngo
media@hollowtips.com
http://www.hollowtips.com