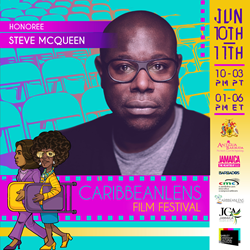 There's nothing you have seen or done which someone else somewhere else in the world cannot relate to because we're human beings. - Steve McQueen
LOS ANGELES (PRWEB) June 09, 2021
In celebration of Caribbean-American Heritage month, the Government of Barbados in association with the Caribbean Heritage Organization and the Shirley Chisholm Cultural Institute are pleased to present the 2021 CaribbeanLens™International Virtual Film Festival -Where Hollywood Celebrates the Caribbean™ on Thursday, June 10 and Friday, June 11 10am – 3pm PT/1:00pm – 6:00pm ET.
Honorees for the 2021 CaribbeanLens™International Virtual Film Festival are: Actress Golda Rosheuvel (Rising Sun Award), Director Steve McQueen (Social Consciousness in Film Award), The Kanneh-Masons (Excellence in Music Award) and Nurse Sandra Lindsay on Behalf of Covid19 Frontline workers (Robert Nesta Marley Humanitarian Award).
There will be a one on one conversation with award-winning "Small Axe" Director Steve McQueen and Screenwriter, Director and Educator from Manchester, Jamaica, Natasha Griffiths.
In addition, panel discussions, inclusive of from multicultural storytelling to film tourism, inclusive of the below participants.
Moderators: Barbara Bullard, President of the Shirley Chisholm Cultural Institute and Founder of humanites and marketing firm, B-Bullard LLC, Ellen Bishop Spielman, CEO, Grenadian Film Commission, Francesca Harwood, Sr. Vice President Business Affairs, NBCUniversal, Paula Madison, Former NBC Executive, Chairman and CEO of Madison Media Management LLC and 88 Madison Media Works Inc.
Panelists: Alison A. Taylor Award-winning Location Manager, Danielle Ayow, Filmmaker, Actor, Comedian, Euzhan Palcy, Award-Winning Director, Writer, Producer and Activist, Lori Bolton, Location Scout, Maria Daatio Perez Director & Sr. Counsel for Mattel, Nikkia Reveillac Senior Director of Research for Twitter, Zahra Phillips, Director of Development at Searchlight Pictures.
Due to COVID-19 postponement, films have been selected from 2020 submissions. Winners will be announced on the last day of the festival, Friday, June 11, at approximately 2:30 PST.
To Register for the CaribbeanLens™ International Virtual Film Festival, Thursday, June 10 and Friday, June 11 10am – 3pm PT/1:00pm – 6:00pm ET: https://caribbeanheritage.org/art-festival-registry/
The logo of Ms. Chisholm stepping out with a folding chair under her arm and VP Harris in step behind her was done by visual artist David Heredia. The "Bring A Folding Chair" campaign is to add to the many social justice mantras of this age and in support of Representative Yvette Clarke's H.R. 2198 and Senator Raphael Warnock's S. 1032 Bills to the Joint Congressional Committee on Libraries to have a statute of the 5'2" towering in the US Capitol.
A video presented by the Shirley Chisholm Cultural Institute on Congresswoman Shirley Chisholm's run for the President of the United States produced by B-Bullard LLC and The Mozzlestead Company with the voice over of Award-Winning Actress Anika Noni Rose will be screened during the festival.
About CaribbeanLens™ International Film Festival
The CaribbeanLens™ International Film Festival is where Hollywood celebrates the Caribbean. Invitees to the festival include executives from the major Hollywood studios and production companies. The purpose of the festival is to celebrate the blending of the Caribbean and the diaspora cultures and talent to create unique and outstanding work and to raise global awareness of the new renaissance of film-making and music production that the Caribbean basin is currently experiencing. The festival also aims to celebrate all filmmakers and welcomes a limited amount of submissions from our international friends.
About Caribbean Heritage Organization (CHO)
It is the mission of the Caribbean Heritage Organization to: Chronicle the experiences of the expatriated Caribbean people, from the most recently arrived immigrants to leaders in American and European society, from life on the streets of Brooklyn, London, Toronto to deal making in the halls of power. Showcase and educate in the different aspects of Caribbean arts and culture in and outside the region. Conserve and celebrate the rich and diverse contributions of the Caribbean and its people to the international society. Support and nurture existing and emerging creative talent in the Caribbean through academic scholarships, mentorship and promotion of Caribbean films and filmmakers, theater and dance. Caribbean Heritage Organization, Inc. is a 501 © (3) entity.
About Shirley Chisholm Cultural Institute (SCCI)
It is the mission of The Shirley Chisholm Cultural Institute (SCCI), founded in 1977 with the approval of Congresswoman Shirley Chisholm, is to provide voluntary services for children to enhance their development; provide cultural experiences to help children become more expressive, more creative and more appreciative; provide opportunities for the parent/guardians of children to be invested in enhancing the educational and cultural advancements of their children through participation and understanding; to help parents, guardians and children utilize economic, recreational and health and resources in the community; to assist in creating new resources that will lead to family stability. Our primary goal of the Shirley Chisholm Cultural Institute is to preserve the legacy of Congresswoman Shirley Chisholm through the initiatives cultivated in 1977 with 21st century activism and innovation.
Additional Partner:
Jamaica Cultural Alliance
Jamaica Cultural Alliance (JCA) is a Los Angeles 501(c)nonprofit with activities focusing on four strategic areas of development; I. Education and Literature; II Performing Arts and Music; III Visual Arts & Technology; IV Heritage and Resource Development. The mission of the Jamaica Cultural Alliance is to promote the best of Jamaica, its people and their multifaceted lifestyles, in order to clarify and enhance the image of Jamaica and the Caribbean at large.
Sponsors:
The Government of Barbados, Antigua & Barbuda Tourism Authority, Barbados Tourism
Marketing Inc., Caribbean Media Corporation, Jamaica Tourist Board, Grenada Film
Commission, Tuff Gong Worldwide