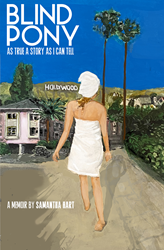 I began to sense that she had a much bigger story to tell— one that would make a great movie itself.
LOS ANGELES (PRWEB) March 18, 2021
Hollywood executive and author Samantha Hart's debut book and memoir, "Blind Pony: As True A Story As I Can Tell" (Wild Bill), reveals Hart's journey from a runaway teen to a successful Hollywood executive. The book is available worldwide on March 15, 2021, and can be ordered on Amazon or samanthahart.net.
Los Angeles' legendary Book Soup, "Bookseller to the Great and Infamous," hosts the virtual book signing for "Blind Pony" on March 19th at 6 pm PT, where author Melissa Maerz will interview Hart.
Maerz says, "A few years ago, I reached out to Samantha to ask if I could interview her for my book, 'Alright Alright Alright: The Oral History of Richard Linklater's Dazed and Confused.' I knew she had created the iconic smiley face poster for the movie, and I wanted to talk to her about the way the film was marketed."
She adds, "But once we started talking about Samantha's background, and how she went from running away from home as a teenager to building a successful career in Hollywood, I began to sense that she had a much bigger story to tell— one that would make a great movie itself. I'm very excited to talk to her about her memoir, 'Blind Pony.'"
This event is a dream come true for Samantha Hart, who mentions Book Soup in the book. When she first arrived in LA in the 70s, she lived in a cellar apartment two doors down (off Sunset and Holloway Drive) and spent a lot of time at the bookseller.
Hart says, "It's a full-circle moment for me as I used to hang out there at the original tiny store, and the Book Soup owner, Glenn Goldman, let me read books all day because I had no money to buy them and no ID to get a library card."
Hart adds, "I hope that if there is just one girl out there who feels alone and scared about her situation when she hears my story, she'll realize that there's always hope."
"Blind Pony: As True A Story As I Can Tell" is available for pre-order at samanthahart.net. Visit the Book Soup Website for free registration to the Book Signing event.
"Blind Pony" Synopsis
Samantha grew up on a farm in rural Pennsylvania that was no childhood ideal but rather a surreal, twisted nightmare. After years of enduring a life of abuse, at the age of 14, she ran away searching for her father, a character she only knew as "Wild Bill"—only to discover he's not the hero she dreamt he'd be. Her instinctual knack for surviving independently as a young runaway takes the reader on an unbelievable journey into the mind of a vulnerable, resilient, and quick-witted teen-who finds herself in situations that range from mordantly funny to sometimes perilous adventures. Arriving in Los Angeles at the peak of LA's decadence, where money, drugs, and good times flowed, she floats through a strange new world of champagne-soaked parties, high-stakes backgammon tournaments, and a whirlwind of international escapades as she travels across Europe. "Blind Pony" is a raucous recounting—a coming-of-age narrative of healing and hope, intersecting themes of recovery, redemption, and forgiveness. Hart's defiance to play the victim, but rather define life on her terms, will inspire anyone who reads her words.
About Samantha Hart
Samantha Hart's career has spanned music, film, and advertising, earning her a reputation as an award-winning Creative Director. Early in her career, Hart worked with top artists at Geffen, including Cher, Aerosmith, Nirvana, and Guns' N Roses, to name a few. Segueing to the role as Creative Director in the film industry, her creative marketing campaigns brought prominence and Academy Awards to films such as "Fargo," "Dead Man Walking," and "Boys Don't Cry," while earning cult status for independent features, "Four Weddings and A Funeral," "Priscilla Queen of the Desert," and "Dazed and Confused," which is enjoying a resurgence in popularity from the book, "Alright, Alright, Alright," which details Hart's campaign for the Richard Linklater film that is synonymous with the indie due to its iconic 'stoned happy face' and irreverent copy. Hart built a multi-million dollar company with her partner in the advertising industry, Foundation, with over forty employees and offices in Chicago and Los Angeles, which earned distinction as an early disrupter of the traditional production and post-production models by combining the two under one roof. Hart owns and operates a creative advertising boutique, Wild Bill, where she continues to produce branded content and advertising materials with her partner, director/editor, James Lipetzky. Hart says, "I've been in indie records, indie film, and indie advertising. Now, I love this indie book world." In the works are an untitled novel and a coffee table book, "The Artist's Muse," which is a collection of drawings, prose and short stories.
Website: https://www.samanthahart.net
Book Video Trailer: https://youtu.be/_vIPHYURb8U
Book Video – The Author's Journey: https://youtu.be/nHBXDxHMang
Instagram: https://www.instagram.com/therealsamhart
Twitter: https://twitter.com/samanthahart
Facebook: https://www.facebook.com/samantha.hart.39
ISBN: 1649700938
Page Count: 359 pages
Price: $26.95 (hard cover); $14.99 (paperback); $2.99 (Kindle)
Publication Date: March 15, 2021