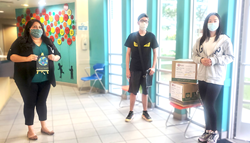 During COVID-19 pandemic, children at orphanage centers should be loved and cared for even more.
Hollywood, CA (PRWEB) May 04, 2020
Alex Nia (11th grader - Calabasas High School) and Magnolia Wu (7th grader - Thurston Middle School), two upcoming Hollywood talents, continued efforts of caring for children in their community, bringing positive impact to the young society. In addition to donating 8,000 children's protective face masks to the Children's Hospital Los Angeles in April, 2020, the two young talents donated additional 2,000 children's masks to Penny Lane Centers this week.
"During COVID-19 pandemic, children at orphanage centers should be loved and cared for even more. That's why I wanted to help orphanage centers," Magnolia Wu explained
Alex Nia added, "The COVID-19 pandemic has a potentially far-reaching, long-term negative impact on children around the world. We are grateful we could do our part to help more children."
After the discussion with the staff at Los Angeles County Department of Children and Family Services, a government body designated to promote child safety and well-being by partnering with communities, Angelina Leo, the chief operating officer of Wardour Studios was able to identify several children and family services centers.
"I learned that Penny Lane Centers is a member of California Alliance of Child and Family Services, Human Rights Campaign- All Children, All Families Seal, and Association of Community Human Service Agencies. I am delighted to connect our two young talents with Penny Lane Centers," Said Angelina Leo.
Founded by Ivelise Markovits, Penny Lane Centers strives to be the influential leader in the child welfare, mental health and social service arenas by setting trends that showcase creativity and commitment to communities.
Accompanied by Steven Nia, Chairman of Wardour Studios, Alex and Magnolia personally delivered and donated 2,000 children's protective masks to the headquarters of Penny Lane Centers.
The representative at Penny Lane Centers told Angelina Leo that Magnolia Wu and Alex Nia are sweet, and the in-kind donation is wonderful. The children's protective masks will be given to Penny Lane Centers' residents on behalf of Alex and Magnolia.
"We actually just met in February this year, at Hollywood Stars Gala - OscarsⓇ viewing and dinner. At the Gala, the moment we saw Mr. Nia inviting Academy Award winner Roger Christian, Grammy Award winner Drumma Boy, Dr. Khalilah Ali (ex-wife of the Champ, Muhammad Ali), Floyd Mayweather Sr., and IBF and WBO boxing champion Zab Judah, and many other celebrities to join forces in combating the coronavirus, we made up our mind and decided to do our part in the children's world," Revealed Alex Nia and Magnolia Wu.
Inspired by the call to action against the COVID-19, put forth by Steven Nia, Alex and Magnolia managed to raise sufficient funds from friends, family, and their followers to acquire thousands of disposable children's protective face masks.
"Thank all of you for staying on duty during the COVID-19 pandemic, and for taking care of the residents at the center. We are so proud of your contribution to children," Alex Nia and Magnolia Wu expressed their gratitude while handing over the boxes of children's protective masks to the representative at Penny Lane Centers.
According to Angelina Leo, the masks which the two Hollywood teenage talents researched and found are suitable for protecting children between the ages of 4 and 14, and are made with 3 layers of Non-woven fabric (polypropylene).
About Penny Lane Centers
The foundation's nickname, Penny Lane, was taken from the upbeat, cheerful Beatles tune that celebrates the simple joys of life. What began as a group home for a handful of adolescent girls has grown into a multi-service organization that serves 6000 children, youth and families and employs over 650 full time social service providers and support staff. Penny Lane's main campus is located in North Hills, where we provide Residential Care, Transitional/Permanent Housing for former foster youth, Foster Care and Adoption Services, Family Preservation and Intensive Services as well as a Mental Health Services. Penny Lane has additional offices in San Gabriel and Antelope Valley.
For more information please visit:
http://www.pennylane.org
About Wardour Studios Hollywood's two young talents
Alex Nia, 16, is an 11 grader at the Calabasas High School, in Calabasas, California, studying hard and passionately working on his acting and film/TV production skills. Magnolia Wu, 13, is an 7 grader at Thurston Middle School, Laguna Beach, California, also a good student with love for painting and sculpture, and determination to set up her own art exhibit and to pursue her artistic career.
About Wardour Studios
Wardour Studios™ is a state of the art, next generation, film studio, with a creative and advanced technology foundation, specializing in Hollywood - international co-producing and co-financing. Wardour Studios is a full service Hollywood film and TV production company, with film and television IP, as well as expertise in live action and animated films. Wardour Studios' team strives and is committed to the creation and development of advanced digital production, visual effects (VFX), virtual reality (VR), augmented reality (AR), motion capture, AI (artificial intelligence) and Robotics, as well as exploitation of ancillary on a global basis. The team also possess extensive experience in post production, editing, cinematography, workflow management, and various other aspects of digital production and distribution.
http://www.WardourStudio.com
PR@WardourStudio.com