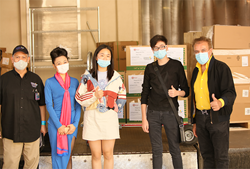 We are all in this together, but we noticed that children need smaller masks to properly protect their faces.
LOS ANGELES (PRWEB) May 01, 2020
Inspired by the call to action against the COVID-19, put forth by Wardour Studios chairman, Seven Nia, during February 2020 Hollywood Stars Gala - Oscars viewing and dinner, Alex Nia (11th grader - Calabasas High School) and Magnolia Wu (8th grader - Thurston Middle School), two upcoming Hollywood talents made their mind and began to do their part in the fight against the pending.
Magnolia and Alex met at the Gala, in February 2020. The two young talents were inspired by Steven Nia as well as other celebrities, including Academy Award winner Roger Christian, Grammy Award winner Drumma Boy, Dr. Khalilah Ali (ex-wife of the Champ, Muhammad Ali), Floyd Mayweather Sr., and IBF and WBO boxing champion Zab Judah, and joined forces to combat the coronavirus, in order to help protect children during the pandemic.
Driven by their heartfelt call to help the kids and putting to work their entrepreneurial skills, the team managed to raise sufficient funds from friends, family, and their followers to acquire thousands of disposable children's protective face masks.
Alex and Magnolia personally delivered and donated 8000 children's masks to three staff members of LA Children's Hospital, who gratefully accepted and thanked the team for their great contribution.
Alex Nia told staff at Children's Hospital, "We are all in this together, but we noticed that children need smaller masks to properly protect their faces. So we decided that buying children specific masks would be most useful to help mitigate and prevent contamination to children, particularly those children who have to spend time in the hospital, for whatever reason."
"There is no reason to slow down our fight just because we have made some progress. We must continue to do all we can until this horrible pandemic is fully under control." Said Magnolia Wu while handing over boxes of children's masks to the hospital representatives.
According to Angelina Leo, the chief operating officer at Wardour Studios, really focused on their mission for children. The masks which they researched and found are suitable for protecting children between the ages of 4 and 14, and are made with 3 layers of Non-woven fabric (polypropylene).
About Children's Hospital Los Angeles (CHLA)
CHLA is a non-profit, pediatric academic medical center located in the East Hollywood district of Los Angeles, on Sunset Boulevard at the corner of Vermont Avenue. Founded in 1901, it is the largest regional referral center for children in critical condition who need life-saving care. According to US News, Children's Hospital Los Angeles in Los Angeles, CA is ranked top 5 on the Best Children's Honor Roll. It is nationally ranked in top 10 pediatric specialties. https://www.chla.org/
About Wardour Studios Hollywood's two young talents
Alex Nia, 16, is an 11 grader at the Calabasas High School, in Calabasas, California, studying hard and passionately working on his acting and film/TV production skills. Magnolia Wu, 14, is an 8 grader at Thurston Middle School, Laguna Beach, California, also a good student with love for painting and sculpture, and determination to set up her own art exhibit and to pursue her artistic career.
About Wardour Studios
Wardour Studios™ is a state of the art, next generation, film studio, with a creative and advanced technology foundation, specializing in Hollywood - international co-producing and co-financing. Wardour Studios is a full service Hollywood film and TV production company, with film and television IP, as well as expertise in live action and animated films. Wardour Studios' team strives and is committed to the creation and development of advanced digital production, visual effects (VFX), virtual reality (VR), augmented reality (AR), motion capture, AI (artificial intelligence) and Robotics, as well as exploitation of ancillary on a global basis. The team also possess extensive experience in post production, editing, cinematography, workflow management, and various other aspects of digital production and distribution.
http://www.WardourStudio.com
Films@WardourStudio.com