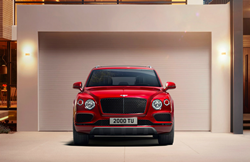 ST. LOUIS (PRWEB) April 15, 2020
The COVID-19 crisis has made a significant impact on society, with the health and finances adversely affected for many people. Holman Motorcars St. Louis is reassuring its customers with its various initiatives to address COVID-19. This includes online car shopping, pick up and delivery of vehicles, deferred payments and 0% financing for various car brands, and the thorough cleaning and sanitation of the vehicles at the dealership.
Holman Motorcars St. Louis makes it easy to shop for a car with its recently launched website. Customers can shop and buy a car from the comfort, convenience and safety of their home, using your smartphone, tablet, laptop or desktop computer. Once a customer has chosen a model, they can communicate with a certified sales associate online or over the phone to discuss the targeted model, as well as incentives and financing options.
For test drives and after purchasing a vehicle, Holman Motorcars provides delivery directly to a customer's home. If a customer is planning on trading in their current vehicle, one of the associates can provide an at-home appraisal. Additionally, the Holman Motorcars St. Louis Service Center is open and can handle any of the maintenance and repair needs for a vehicle. For service work, the dealership provides home pick-up and delivery.
In addition to adversely affecting the health of many people, COVID-19 has caused a great deal of economic hardship, including the loss of jobs. Fortunately, many automakers have COVID-19 relief programs, including deferred payments for multiple months and 0% financing. Customers are encouraged to contact Holman Motorcars St. Louis for details about specific OEM relief programs.
The health of both the employees and customers at Holman Motorcars St. Louis is of paramount importance. The dealership is adhering to the strict guidelines of the CDC and WHO. Holman Motorcars St. Louis thoroughly sanitizes vehicles in its showroom, as well as vehicles that receive maintenance and repairs.
For more information about the programs, services and models offered at Holman Motorcars St. Louis, automotive customers can visit the dealership's website at http://www.stl.cars or call (636) 489-3788.
Holman Motorcars St. Louis is located at One Arnage Boulevard in St. Louis.