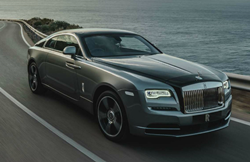 ST. LOUIS (PRWEB) March 26, 2020
Premium automotive shoppers that are looking for a very high level of luxury and exclusiveness will be very impressed with the 2020 Rolls-Royce Wraith. With its elegant design, a powerful V12 engine, superb driving dynamics, a roomy and refined interior, state-of-the-art technologies and the ability to personalize in many different ways, the 2020 Rolls-Royce Wraith provides a blissful driving experience. Holman Motorcars St. Louis now offers the luxurious 2020 Rolls-Royce Wraith.
All 2020 Rolls-Royce Wraith models come equipped with a robust 6.6-liter turbocharged V12 engine, which doles out 624 horsepower and 627 pound-feet of torque. The Wraith can reach a top speed of 155 mph and achieves the zero to 60 mph sprint in just 4.4 seconds. The Wraith Black Badge model is even more powerful and quicker, with a torque output of 664 pound-feet and a zero to 60 mph time of only 4.3 seconds.
The 2020 Rolls-Royce Wraith has a beautiful design, with its iconic grille, a flowing roofline, signature rear-hinged coach doors and a long overhang over the rear wheels. The mirror-like quality of the bodywork for the Wraith is due to the meticulous craftsmanship and multiple layers of paint. To further enhance the exclusiveness of the Wraith, it can be customized in many different ways, including the wheel designs (20-inch or 21-inch versions), single-color and two-tone-color paint options and a wide range of options and accessories.
The cabin of the Rolls-Royce Wraith has a luxurious ambiance. It fuses modern design elements with heritage cues, while offering premium materials like Piano Black lacquer, Black and Seashell leather, brushed aluminum and Canadel paneling. Another unique feature of the Wraith is the Starlight Headliner, in which the interior section of the roof is turned into a magical star-filled sky, complete with shooting stars. The Wraith also offers a comfortable amount of headroom and legroom for the driver and passengers, along with plenty of space for storage.
For more information about the Rolls-Royce Wraith and other models at Holman Motorcars St. Louis, premium automotive shoppers can visit the dealership's website at http://www.stl.cars or call (636) 489-3788.
Holman Motorcars St. Louis is located at One Arnage Boulevard in St. Louis.