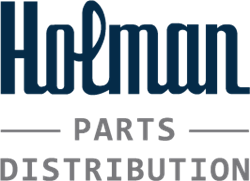 PENNSAUKEN, N.J. (PRWEB) October 16, 2019
Holman Parts Distribution®, a premier partner of major OE brands for automotive powertrain sales, distribution, and core collection, has been named among the Phase I winners of the Department of Energy's (DOE) Battery Recycling Prize. Holman Parts Distribution is one of 15 winners who were selected based on their proposed concept to solve the current challenges associated with collecting, sorting, storing, and transporting discarded lithium-ion batteries effectively and efficiently for recycling.
"We are incredibly proud to be honored alongside this esteemed collection of innovators. This recognition further validates our unwavering commitment to establishing sustainable practices which enable our industry to operate smarter, safer, and cleaner while also serving as stewards of the environment," said Anne Williams, president, Holman Parts Distribution. "Many of our employees spent countless hours developing our proposed solution and we're extremely excited to begin transforming our concept into a reality during Phase II of this process."
Many automotive manufacturers already have established core collection programs to collect and recycle propriety vehicle parts into other usable components. This process has been successful for decades and has significantly increased the number of automotive components that can be reused, recycled, or remanufactured. Currently, Holman Parts Distribution collects more than one million pieces of core each year. Holman Parts Distribution is proposing a comprehensive reverse logistics recycling program for all types of lithium-ion batteries that builds upon the industry's current core collection infrastructure.
The concept calls for Holman Parts Distribution to work with automotive manufacturers and dealerships across the country to build a robust lithium-ion battery recovery program. The company believes current core recovery practices can be leveraged to collect, transport, and recycle these batteries safely and economically. Holman Parts Distribution's proposed solution has the potential to significantly decrease the environmental impact of improperly disposing of these batteries, reduce the cost of transporting batteries to recycling centers, and stimulate economic opportunities in the renewable energy aftermarket.
"As the automotive industry continues to embrace the development and advancement of hybrid and electric vehicle technology, the demand for rechargeable lithium-ion batteries will only grow stronger. But when these batteries are no longer useable for automotive applications, disposing of them properly presents a significant logistical challenge," said John Conte, director, logistics and operations, Holman Parts Distribution. "Our proposed reverse logistics solution would serve as a crucial link in the automotive supply chain, helping to ensure these batteries are recycled properly."
The Lithium-Ion Battery Recycling Prize is just one of the American-Made Challenges offered by the DOE to incentivize the nation's entrepreneurs to reassert American leadership in the energy marketplace. These new challenges seek to lower the barriers U.S. innovators face in reaching manufacturing scale by accelerating the cycles of learning from years to weeks, while helping to create partnerships that connect entrepreneurs to the private sector and the network of DOE's national laboratories across the nation. Learn more about these American-Made Challenges at this website.
Over the course of the next year, Holman Parts Distribution will continue to flesh out the details of the initiative's strategy and develop a proof of concept for the company's proposed solution. The company plans to engage leaders from across the automotive industry to establish the initial framework of a comprehensive reverse logistics recycling program for discarded batteries and gain additional insight regarding the opportunities in the marketplace as well as the potential challenges to its proposed solution.
For additional information about Holman Parts Distribution, please visit HolmanParts.com.
About Holman Parts Distribution
Established in 1946, Holman Parts Distribution is a national supplier of original equipment (OE) powertrain components. The company offers clients a single-source powertrain sourcing solution featuring nationwide distribution and OEM-backed warranties. Holman Parts Distribution is also a provider of OE core collection services and is the exclusive Ford Authorized Distributor of powertrain assemblies and diesel components in the Northeast and Great Lakes region. Headquartered in Pennsauken, New Jersey, Holman Parts Distribution is a division of Holman Enterprises, a worldwide leader in the automotive industry. Holman Enterprises also consists of Holman Automotive, one of the largest privately-owned dealership groups in the U.S. with 37 dealership franchises representing 18 brands; Steward Financial Services, an automotive retail finance company; Holman Insurance Services, a commercial and consumer insurance services company; Auto Truck Group, a truck up-fitting business; and ARI, the largest privately-owned fleet leasing and management company in North America. For additional information, please visit HolmanParts.com.
# # #