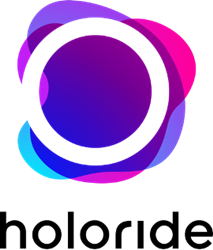 MUNICH (PRWEB) May 20, 2021
holoride, the company advancing the future of in-vehicle entertainment, announced today it is deploying blockchain technology for its platform. With the highly secure, immutable and decentralized characteristics of blockchain technology, the step is intended to enhance the overall holoride ecosystem, distribute revenues fairly among partners, and offer an unparalleled, personalized passenger experience.
holoride is building the world's first immersive in-vehicle media platform. By processing motion and location-based data in real-time, holoride enables content creation that adjusts to vehicle motion, travel time and route. As a result, it perfectly syncs with the passenger's journey.
As the underlying platform provider for car manufacturers, content creators and users in this new mobility-entertainment space, holoride aims to transparently distribute content, fairly compensate developers based on user engagement time and value distribution, and provide an overall value-capture on a publicly accessible layer. Blockchain technology and non-fungible tokens (NFT), which represent unique digital assets, allow holoride to stay true to these goals and ensure transparency across its partner network. Blockchain technology may also enable holoride to evaluate a compelling set of potential incentive structures for users, such as unique NFTs and social currencies to significantly enhance the passenger experience.
"As we look to expand across global markets, blockchain technology and NFTs help us scale while securing the integrity of our developer-centric and car manufacturer-agnostic approach," said Nils Wollny, CEO and co-founder of holoride. "Our mission is to make transit time more valuable for everyone. Through NFTs, we envision the highest level of personalization for users while offering a one-of-a-kind XR experience with compelling monetization opportunities for our partners."
After holoride's spin-off in 2018, Audi is now backing the company's blockchain venture in an effort to explore new opportunities that decentralized ledger technology provides, especially when looking at future ways to provide customers with premium products and in-car experiences.
"We're excited to explore blockchain's potential with holoride," said Sven Schuwirth, Senior Vice President Digital Experience and Business at AUDI AG. "We strongly believe that it is all about creating meaningful and customer-centered experiences. In the future this will become even more vital and a major differentiator. Audi's investment in this initiative represents a step in that direction."
The NFTs in the holoride ecosystem will contain specific utilities and allow for developers to retain the value of their creations. Digital items and collectibles on holoride's platform, represented by NFTs, are intended to be transferable and tradable, unlocking an unprecedented experience and commercial value within the in-car entertainment space.
Elrond has been selected as the blockchain layer that integrates with holoride's technology stack. The team's commitment and vision, along with a strong innovation roadmap, has put them at the forefront of holoride's selection process.
"holoride is in a unique position to reimagine digital media and mobility by bridging them using blockchain technology. The intuitive simplicity of Elrond will help every user to seamlessly and securely onboard this exciting new technology stack." said Beniamin Mincu, CEO & co-founder of Elrond. "In addition to scalability, holoride will benefit from Elrond's core strengths of speed, security, and energy efficiency. Our internet-scale network is powered by 'Secure Proof of Stake' which eliminates Proof of Work (PoW) computational waste and lowers transaction costs to negligible levels."
Following the successful closing of a €10 million ($12 million) Series A in April, led by Swedish ADAS software development company Terranet AB, holoride's use of blockchain technology and NFTs is the next leap forward in the company's preparation for its market launch in 2022.
"We have our eyes set on the future, and this technology will help get us there," continued Wollny. "We're thrilled to continue moving towards our wider market launch next year and show everyone what's yet to come."
About Audi
The Audi Group, with its brands Audi, Ducati and Lamborghini, is one of the most successful manufacturers of automobiles and motorcycles in the premium segment. It is present in more than 100 markets worldwide and produces at 19 locations in 12 countries. 100 percent subsidiaries of AUDI AG include Audi Sport GmbH (Neckarsulm, Germany), Automobili Lamborghini S.p.A. (Sant'Agata Bolognese, Italy), and Ducati Motor Holding S.p.A. (Bologna/Italy). In 2020, the Audi Group delivered to customers about 1.693 million automobiles of the Audi brand, 7,430 sports cars of the Lamborghini brand and 48,042 motorcycles of the Ducati brand. In the 2020 fiscal year, AUDI AG achieved total revenue of €50.0 billion and an operating profit before special items of €2.7 billion. At present, circa 87,000 people work for the company around the world, 60,000 of them in Germany. With new models, innovative mobility offerings and other attractive services, Audi is becoming a provider of sustainable, individual premium mobility.
Media Contact
Stefan Grillneder, Spokesperson Product/Technology
+49-841-89-41449
stefan.grillneder@audi.de
http://www.audi.com
About holoride
German startup holoride creates an entirely new media category for passengers by connecting Extended Reality (XR) content with data points from the vehicle in real-time. These data points include physical feedback, like acceleration and steering, traffic data, as well as travel route and time. holoride technology provides a new type of immersion into any kind of VR content, creating a breathtaking, immersive experience, and significantly reducing motion sickness. The tech startup was founded at the end of 2018 in Munich, Germany by Nils Wollny, Marcus Kuehne, Daniel Profendiner, and Audi, which holds a minority stake in the startup. It was hailed "Best of CES" four times (Las Vegas, January 2019), recognized as one of the 100 Best Inventions of 2019 by TIME Magazine, and is part of the global innovation platform "STARTUP AUTOBAHN powered by Plug and Play." In 2021, holoride went on to win the prestigious SXSW Pitch and was also awarded as Best in Show.
For more information, please visit https://www.holoride.com/.
Media Contact
Kiley Ribordy
Walker Sands
+1-312-267-0064
holoride@walkersands.com
holoride
Rudolf Baumeister
Senior Marketing & Communications Manager
+49-174-169-65-73
rudi@holoride.com