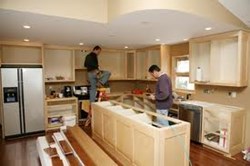 Remodeling homes will benefit homeowners in the long run, it is just important they make smart decisions to get the most out of their money and change what really matters.
Milwaukee, Wisconsin (PRWEB) August 05, 2013
Many homeowners have been glad to see the real estate market rebounding recently, and it's becoming a better time to sell a home and receive top dollar. With the housing recovery beginning to take place, many homeowners are also opting to perform home improvements in hopes of increasing the value of a home further.
When deciding on which home improvement project to undertake, the key is to make changes that are going to lure in potential buyers and make a home worth more if sold. The home security professionals at SecuritySystemReviews.com created a list of the best home improvements to make that will increase overall value. SecuritySystemReviews.com is a site that reviews the top home security systems throughout the country.
1. When considering a kitchen remodel, sometimes less is more. It's important to avoid making a kitchen much fancier or out of style as compared to the rest of the home. Valuable updates that aren't going to cost the homeowner a great deal of money include a fresh coat of paint, upgrading appliances to energy-efficient models and cabinet re-facing. All of these will make a kitchen look more appealing to a buyer, without breaking the bank for the homeowner.
2. Consider the installation of security systems. Many potential home buyers are looking for the presence of home security systems, and installing even the cheapest security system can be appealing and make a home more valuable. The increase in the value of a home can often more than pay for security system equipment costs, even in the short term.
3. Consider the addition of another bathroom to an area of the home where there is unused space, such as a large hall closet. A bathroom project can range greatly in price, depending on the fixtures and other details that are selected during the remodel but the addition of a bathroom can typically more than cover the cost of the remodel in terms of value.
4. Converting a basement or attic to a bedroom can be a valuable addition to a home. Adding an actual room to a home is very expensive, but transforming an existing area is typically much less expensive. It's also possible to turn attics and basements into other usable rooms, such as playrooms, theaters or game rooms.
5. Update windows in a home. Not only is updating windows a great way to increase the security and energy efficiency of a home, but it is also a value-adding project.
About SecuritySystemReviews.com
SecuritySystemReviews.com is the leading third-party provider of information about the home security industry. The site provides reviews and rankings of top security companies in the country, as well as security system coupons and discount codes.