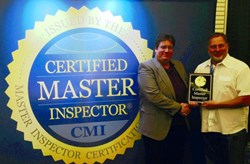 (PRWEB) December 18, 2013
With every full home inspection, The Elite Group now offers sewer line protection from SewerGard, the world leader in underground repair coverage. Main water breaks and sewer line collapses are covered for up to $4,000, ensuring that home buyers can buy with confidence and agents can worry less.
Often a home's sewer line is omitted from the inspection report. Sewer lines run underground, making it difficult for inspectors to assess the line's quality. Inspectors usually evaluate the sewer line by flushing the toilet, but roots that may not block the pipes at the time can grow over the course of sixty days. Other sewer problems can also develop after a month or two, including line collapses. SewerGard lasts for ninety days to protect against any issues that might not be apparent during the initial inspection. This can help homeowners save thousands in repair costs and avoid a nightmare situation where a home's plumbing system is rendered unusable.
Sewer repairs aren't covered under insurance or home warranties and inspectors aren't legally liable, so when a sewer line breaks, the new owner covers the cost. These repairs aren't cheap either. Sewer line repairs often cost between $1,000 and $4,000. Both home buyers and agents are pleased with the assurance that this unexpected expense will be covered.
Along with SewerGard, The Elite Group also offers free upgraded services with every inspection: Certified Master Inspectors (CMIs), RecallChek, and a one-year membership to the Home Owner's Network. A home inspection is only as good as the inspector, and these upgraded services, provided by The Elite Group's team of experienced and trained home inspectors, ensure that each Elite Group inspection lives up to its name.
About The Elite Group
The Elite Group has the strongest staff of home inspectors in Southern California with over 350,000 homes worth of experience. We offer on-site inspection reports with photos followed up with an email copy the same day starting at $255. All 35 of our experienced home inspectors are InterNACHI certified. Combine that with being fully insured, the industry's leading home inspection company, and Appliance Recall Reporting for life...and you have the best company to perform your next home inspection on all accounts. Visit http://www.eliteinspections.com.