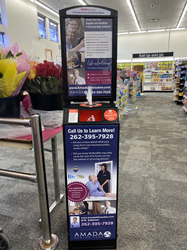 Our goal is to help minimize risk so that more people are kept safe. We want to ensure the health and safety of our home care clients, caregivers and customers of CVS pharmacies.
BROOKFIELD, Wis. (PRWEB) May 13, 2020
Committed to doing everything it can to reduce the spread of the novel coronavirus, Amada Senior Care of Greater Milwaukee is placing hand sanitizer kiosks in several drugstore pharmacies for public use. The kiosk program is just the newest protocol that Amada of Greater Milwaukee, a premier non-medical provider of in-home senior care, has put into place in response to the current global pandemic.
While closely monitoring the COVID-19 situation, Amada Senior Care continues to follow the most current Centers for Disease Control and Prevention (CDC) guidelines. Amada caregivers are equipped with PPE (personal protective equipment) like masks, gloves, and hand sanitizer. They have received trainings and certifications on how to minimize transmission risk to clients during COVID-19. Their training on safety protocols, hygiene standards, infection control and the nature and communicability of airborne pathogens is continually updated and emphasized.
Taking the additional public service step of providing hand sanitizer kiosks is in keeping with Amada Franchise Inc.'s core commitment of enriching lives. DR Salerno, owner of Amada Senior Care of Greater Milwaukee, expects that sponsoring kiosks in several drugstore pharmacies will help residents minimize exposure to COVID-19 during this national emergency. Given many sponsorship options, Mr. Salerno decided that kiosks offer a better opportunity to support the CDC recommendation of hand washing/sanitizing as the single most important means of preventing the spread of infection.
"Our goal is to help minimize risk so that more people are kept safe," says Mr. Salerno. "We want to ensure the health and safety of our home care clients, caregivers and customers of CVS pharmacies. We are pleased to introduce this public safety program through our partner Terraboost and do our part to help the communities we serve. Along with following industry-leading protocols for caregiver safety, we are making great strides serving seniors and other clients in this COVID-19 pandemic period and preparing for a strong recovery while maximizing everyone's safety."
Those who come across an Amada Senior Care kiosk will learn about how trained Amada caregivers work one-on-one with seniors, providing them personalized assistance with everyday activities and helping them manage any chronic health conditions. The Amada franchise system is a trusted partner in the senior healthcare continuum, providing critical support to overwhelmed community-based care resources. Providing exceptional in-home care is the overarching mission for the 200 franchise locations around the country because studies show that having an in-home caregiver promotes a meaningful routine, rapport, and connection, letting seniors and their family members focus on wellness.
As Amada continues to quickly respond to the rapidly changing COVID-19 environment, its foremost goal is the health and safety of seniors and families. Please consider Amada as a trusted resource and feel free to reach out with any questions about in-home caregiving, preserving the health of a beloved senior in your life, or obtaining specific assistance. You can reach Amada Senior Care of Greater Milwaukee at (262) 395-7928 or visit its website at http://www.AmadaMilwaukee.com.
About Amada Senior Care
Amada Senior Care Inc. is committed to enriching lives. We provide nurturing, compassionate, nonmedical, in-home care, and guide families through the many senior housing options available for assisted living. We also offer expertise in handling long-term care insurance claims and in certain forms of government aid, including Veterans Aid and Attendance Benefits.
Headquartered in San Clemente, Calif., Amada was founded in 2007, and continues to expand nationally by adding to its elite team of franchise partners. The company jumped up 67 spots to take the 208th ranking on the Entrepreneur Franchise 500 for 2019. In May 2018, Amada signed a national agreement to become a sponsor and exclusive provider to the NFL Alumni Association. For more information, visit AmadaSeniorCare.com.