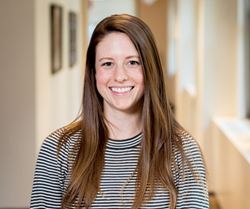 I've always loved Home Chef's entrepreneurial spirit and believe it's one of the things that sets us apart.
CHICAGO (PRWEB) October 13, 2020
Home Chef, a leading meal kit delivery company, has promoted Katie Bevier to the role of Chief Technology Officer, as announced today by the Founder and Chief Executive Officer Pat Vihtelic.
Most recently, Bevier served as Home Chef's Vice President of Technology Product where she led numerous large-scale customer-facing and operational technology initiatives for the company, which currently boasts 1,800 employees. Founded by Vihtelic in 2013, Home Chef merged with The Kroger Co. in late 2018 and currently delivers over 3.5 million meals each month to online subscribers and to Kroger grocery store shoppers.
"As a longtime Home Chef team member, Katie has a vast knowledge of our business and has excelled at working cross-functionally," said Vihtelic. "We are incredibly excited to welcome Katie to the executive team as we continue our pursuit of delivering our customers a delicious home-cooked experience."
Home Chef's technology team handles the design and development of homechef.com, its mobile app, and internal applications designed to facilitate the fulfillment of the company's meal kit orders. This includes menu management tools for recipe development and warehouse management solutions.
By building much of its technology in-house, Bevier says the team is able to create solutions that are purpose built to maximize the order and delivery experience for Home Chef customers.
"I've always loved Home Chef's entrepreneurial spirit and believe it's one of the things that sets us apart," said Bevier. "Our collective "get-it-done" attitude was one of the things that enabled us to scale when we were small, and that attitude still exists today. Having been with Home Chef since the early days, I've seen how we've been able to scale and transform and I'm excited about the runway that is still ahead of us."
Prior to her role on Home Chef's technology team, Bevier led the Operations Excellence team through a period of significant growth, overseeing functions including analytics, process improvement, and operations technology. Under Bevier's leadership, the team built the first generation of Home Chef's operations technology that enabled the business to scale to become the second largest meal kit brand.
Bevier holds a Master of Science degree in Industrial and Operations Engineering, along with a Bachelor of Science degree from the University of Michigan.