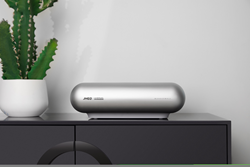 SHENZHEN, China (PRWEB) November 10, 2021
Today, JMGO announced the retail launch of two home projectors–JMGO O1 and JMGO U2–on Amazon and JMGO official site for US customers on November 8 and 19 respectively. O1 is an ultra-short throw LED projector that displays a 100" screen from a 10" distance, whereas U2 is a 4K tri-color laser TV projector. During the first week they are available on Amazon and JMGO website, O1 will be offered at a special price starting at $736.99 (33% off MSRP of $1,099.99), and U2 will be offered at a price starting from $2,399.99 (20% off MSRP of $2,999.99). Free shipping is available for both models.
JMGO O1 originally debuted in April 2021 on the Indiegogo crowdfunding platform. Its space-saving design allows the user to place the projector on any tabletop, just inches away from the wall or projection surface for a sharp and vivid multimedia experience for an undisturbed viewing experience. O1 has a short throw ratio of 0.25:1, 5000:1 contrast ratio, FHD and 4K compatibility in addition to featuring powerful and immersive stereo sound, co-created with loudspeaker producer Dynaudio. It is equipped with MT9669, an industry-leading chipset from MediaTek, for a low-latency mode of less than 30ms that dramatically reduces input lag during gaming to enhance the gaming experience.
Following on the heels of O1, JMGO U2 was introduced on the Indiegogo platform in September 2021. This projector is designed to create a vivid home theatre experience so realistic and sharp it's akin to looking out a window. With a tri-chroma laser engine, U2 delivers sharp, bright, and vivid images that covers 114% BT2020 color gamut, allowing users to embrace impressive details that outperform IMAX theater. 4K is obtained via XPR technology and excellent focus uniformity with a 100" display, 15000:1 contrast ratio, and ultra-high 3,600 ANSI Lumens with an ALR screen.
The two crowdfunding campaigns have successfully raised over $1m USD thanks to the support from backers all over the world. The projects truly exemplify the team's adamant standard in creating an ideal cinematic experience for everyone, combining three key components: 4K UHD big screen picture quality, premium acoustics audio, and striking industrial design. Units from both campaigns have made good on their promise to deliver quickly to backers and are currently shipping.
"After two successful crowdfunding campaigns and with delivery to our amazing backers on track, moving to Amazon was the next logical step in our North American expansion," says Will Wang, Chief Product Officer of JMGO. "It is very important to us that our US customers get a chance to purchase our high-tech home entertainment products, O1 and U2, ahead of our Black Friday and Cyber Monday promotions coming up later in November. So, whether our customers are celebrating Thanksgiving, Friendsgiving, or something in between, they can host a big screen gaming night on O1 or enjoy the IMAX experience right at home with U2."
"Since 2011, our team of in-house graphic experts, acoustics engineers, and industrial designers with over 20 years in the field have been working to transform home projectors, which are traditionally thought to be in the consumer technology category, into a new kind of lifestyle product," continued Wang. "Our relentless efforts to redefine the role of projectors, in relation to humans and the home environment, has been the bedrock for our innovation. This revelation translates into a new design language that embraces a humanistic and life-centric principle that explores ideas of home, family, and togetherness."
American customers wishing to purchase O1 and U2 at its special launch week pricing with free shipping may visit JMGO on Amazon US and JMGO website. With the purchase of a unit on JMGO global site, customers will receive a complimentary HDMI cable. International customers may continue to shop the projectors on the respective Indiegogo InDemand campaigns for O1 and U2, and stay tuned for additional announcements about Amazon availability in their respective countries projected for 2022.
Media Contact
Borjana Slipicevic
Proper Propaganda
borjana@properpropaganda.net
About JMGO
Since 2011, JMGO has committed to delivering immersive large-screen experiences in diverse forms of portability and versatility. Integrating functional design and high quality entertainment, JMGO strives to build an industry-first all-in-one home entertainment ecosystem that encompasses terminal + content + platform + software to a global market.