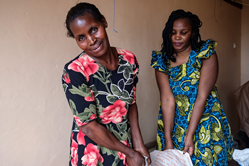 "Our artisans have worked long and hard to pull themselves out of poverty and KAZI is not going to sit back and let this pandemic drag them back down. We are going to do whatever is necessary to see them through until everyone can get back to work again."
SAN DIEGO (PRWEB) May 06, 2020
KAZI is the online artisan brand bringing beautifully handcrafted home goods to customers. The company was founded with the mission to do more than offer products that add uplifting vibrance to your space. Each handmade good creates employment for their 3,600 artisans in Rwanda, Uganda and Ghana.
It doesn't take an expert economist to point out that the global pandemic is impacting Africa in different ways than its continental neighbors. While it is playing out as a news story to some, it's the reality KAZI artisans are facing firsthand.
In rural parts of Sub-Saharan Africa, poverty and hunger are the likely reasons for death as contracting COVID-19 has become global. Every day, 10,000 children in Sub-Saharan Africa die of hunger, and that's when the world is operating normally.
Prior to the spread of Covid-19, East Africa was struggling to contain the largest locust invasion in 70 years and now the virus shut-in and lockdown policies are only making matters there worse. Vulnerable populations who survived by selling each day in the marketplace or finding enough work to eat that day are struggling to survive.
Taking matters into their own hands, this retail company has shifted to the needs of their artisans. KAZI has started distributing necessary food and soap to thousands of their artisans in all three countries, where they work. They plan to provide enough supplies for them to feed their families for the next couple of months.
"We deeply care for the communities in which we serve," said co-founding partner and CEO Greg Stone, who chose to remain in Uganda during the shutdown to oversee the relief efforts.
"Our artisans have worked long and hard to pull themselves out of poverty and KAZI is not going to sit back and let this pandemic drag them back down. We are going to do whatever is necessary to see them through until everyone can get back to work again."
A pivoting business strategy has been another challenge for KAZI. They moved to online sales as major retailers cancelled their purchase orders. According to Stone and co-founder Alicia Wallace, there is one other challenge the company faces aside from moving from retail orders to online sales; the cost of rising goods as their artisans face hunger.
KAZI hopes to conquer both challenges with a new initiative—and online consumers can help. Anyone can join the fight against hunger in Africa during this pandemic with the purchase of a Large Gold Hope Basket. All proceeds from this Rwandan handmade versatile piece will feed a family of six for a month, and KAZI is generously matching each purchase with a donation to feed another family.
Artisans are coming forward expressing their gratitude for the food distribution, letting others know how much it's helping their families. For those looking to help, this is one simple online shopping trip going towards a worthy cause.
"This food aid has helped us a lot because we've been struggling to get food. We don't work anymore these days due to the lockdown and food prices have gone up so we can't afford anything." Margaret Bukeneya, an artisan and breadwinner of eight said. "I'm so thankful for this help—I wasn't expecting it."
About KAZI: Co-founded in 2013 by Greg Stone and Alicia Wallace, the duo with past non-profit experience transformed into entrepreneurs with a greater purpose as they set out to help people overcome a lifetime of poverty. Coming up with different strategies, one stuck with them permanently, "create more jobs." KAZI was born out of a sustainable business model to bring artisans new market opportunities in remote regions and introduce consumers to unique and cherished artisan goods.