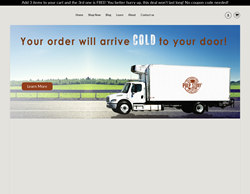 Clean label Real Food for a real difference.
LOS ANGELES (PRWEB) June 24, 2020
PulpStoryJuice.com is a cold-pressed juice company that creates Turmeric Wellness Blasts (t). Pulp Story is the only juice company that features turmeric as the core ingredient in every flavor that they make. Pulp Story cold-packs and ships directly to its customers from their kitchen in sunny Southern California.
Pulp Story Founder Mitchel Dreier says that business has grown by more than 300% since the pandemic hit the US in March. "People are realizing that a healthy diet is a solution to many of our healthcare problems. It's probably the most important solution."
Turmeric is a superfood which can provide an immunity system boost. From their Farmer Partners, Pulp Story sources and blends only whole fresh ingredients, never powders, sweeteners, purees or added water. Clean label Real Food for a real difference.
Dreier says that turmeric has provided real life health benefits to his own family. "My wife is on her keyboard all day long. She credits her daily turmeric intake for managing her chronic wrist pain".
Turmeric, and its active ingredient curcumin, is a proven anti-inflammatory agent. Some studies suggest that ginger and turmeric could help decrease markers of inflammation, relieve joint pain, and improve immune function.
Pulp Story's commercial cold-pressured juice extraction method generates 8,500 pounds of pressure. Which renders every last drop of nutritional benefit from their whole fresh produce.
Home delivery of premium, small batch (healthy beverages) is Pulp Story's unique advantage. PULPSTORYJUICE.COM arrives cold to its customers door, every time. Pulp Story's juice makers are expert at shipping cold-pressed super premium Turmeric Wellness Blasts nationwide, in pristine condition. Many juice companies freeze their juice for easy shipping. Frozen then thawed fresh juice damages the delicate pulp structure. The flavor is changed too. Pulp Story Wellness Blasts arrive cold, not frozen. The Company says it's not as easy as it sounds. Pulp Story takes the last mile very seriously. After putting so much love and effort into making such delicate juice blends. They apply that same care to the delivery process. And their customers can count on it...every time.
Pulp Story does the work for you. Sourcing hard to find whole ingredients which they blend into their proprietary recipes. Five flavors ranging from mild, medium to hella-strong, they have one to please every palette. Delicious and effective.
Shop online at http://www.PulpStoryJuice.com. Limited time offer now: Buy any 2 items get 1 item Free.