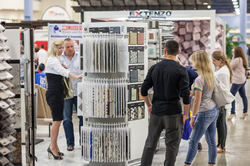 PALM BEACH, Fla. (PRWEB) April 28, 2021
The housing market in West Palm Beach increased 18.9% in median sale price at $440,000 in the month of March. That price was $370,000 in March 2020. The Home Design and Remodeling industry saw the benefit in home values, which impacts Palm Beach neighbors.
We are thrilled to bring the largest Home Design and Remodeling Show in Florida to Palm Beach County after 40 years of production in Miami and Fort Lauderdale!
We saw the exciting demand and knew we could be of service closer to home. The exposition brings affordable and curated home design and remodeling brands to Palm Beach. The community can spark inspiration for home improvement in a one-stop-shop show, seeing room vignettes showcased by 3 locally featured interior designers.
WHAT YOU NEED TO KNOW:
WHERE: Palm Beach County Convention Center
WHEN: May 28-31, 2021
WHY: Talk with experts, influencers, and consultants to see why Palm Beach is a hot spot for prime real estate!
Covid-19 has shown us new ways to reimagine what event safety looks like. We are taking all of the proper steps to assure public safety such as contracting a specialist in electrostatic sanitizing applications, enforcing social distancing and masks at all times. Your safety is our top priority. In fact, we want you to feel right at home!
We've been getting the market ready and rounding up the top South Florida companies for a family-friendly event. Admission is only $12 a ticket with a BOGO special included for a limited time. We will be selling tickets at the door. This is an annual event that homeowners cannot afford to miss! We hope to see you there.
______________________________________________________________________
About the Home Design and Remodeling Show: For more than 40 years, Home Show Management Corp. has been bringing together industry-leading professionals from the entire spectrum of home renovation products and services in South Florida. With home renovation shows in Miami, Fort Lauderdale, and Palm Beach every year, the Home Show always features the latest trends and brands in the home improvement industry. Due to its regular interactions with the local market, Home Show Management Corp has established strong relationships with many of the best companies in the area to allow home improvement events to consistently meet impressive standards in terms of quality and size. Learn more at https://homeshows.net/.