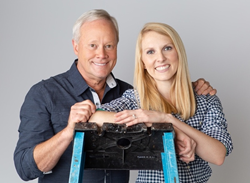 If there's one thing I want homeowners to know, it's that it is OK, and even recommended, to start small with home improvements. Taking on one small project with success will bring confidence, and inspiration to try something else."
MOBILE, Ala. (PRWEB) September 18, 2018
It's fall, y'all! Nothing is more welcome after hot summer months than cooler, crisp temperatures along with the beautiful colors of the fall season. What may be less welcome, though, are all of the seasonal chores that go along with falling leaves and changing weather. That's why "Today's Homeowner" TV hosts, Danny Lipford and Chelsea Lipford Wolf, kicked off a National Media Event today to break down fall must-do tasks and help homeowners tackle them with ease.
The pair kicked off the event live via satellite from a residence in Mobile, Alabama. Lipford and Wolf connected with 26 television and radio journalists delivering their tried-and-true home checklist for the fall season.
"In my experience," said Lipford, "many homeowners avoid basic maintenance chores because they feel overwhelmed. If there's one thing I want homeowners to take away, it's that it is OK, and even recommended, to start small. Taking on one small project with success will bring confidence, and inspiration to try something else."
The father-daughter team gave homeowners advice on keeping fall leaves in check. Raking can be a chore, but Lipford and Wolf introduced viewers to a unnique Leaf Rake from Ames. The 26-inch rake offers help to homeowners with its dual-tine design, preventing clogs and covering more ground faster than traditional leaf rakes. Clearing thick layers of leaves from the lawn will prevent smothering, and help grass return strong in the spring.
Leaves can also wreak havoc on a home's gutter system. Clearing leaves and debris from gutters is at the top of Lipford and Wolf's fall checklist.
"No one likes to clean out gutters, but it's so important to prevent damage to your home, said Wolf. "Clogged gutters can't do their job, which is to move water away from your house. But that water's going to go somewhere – and the likely destination is the eaves and possibly the walls of your home."
Guttering edges can be sharp, so Lipford and Wolf recommend wearing gloves when cleaning them out. Additionally, they've developed a great hack to create a DIY gutter scoop to make the job easier. Once gutters and downspouts are clear and water flows freely, Lipford and Wolf suggested a proactive solution for future maintenance by adding gutter guards. They showcased gutter guards from GutterBrush, which look like giant pipe cleaners. The flexible guards can be cut to fit any length, are easy to install and prevent leaves and debris from accumulating, making regular maintenance even easier.
Moving indoors, Lipford and Wolf discussed the importance of sealing the home's envelope. Most homes have cracks and crevices through which cooled or heated air can escape, wasting energy and money. Lipford and Wolf pointed out the key areas homeowners should survey and address as needed, including the biggest culprits – drafty windows and doors.
Caulking around window seams on the home's exterior is the first step, but Wolf suggested adding another layer of protection indoors. She showed viewers how to install the Max Strength Window Kit from Duck® Brand. This DIY-friendly kit is inexpensive and a great solution for insulating older, less efficient windows. The window kit is made with clear, puncture-resistant film applied with double-stick tape and heated with a blow dryer to finalize the seal. When the weather turns warmer, the film is simple to remove and discard.
Turning attention to doors, Lipford advised homeowners to inspect and replace any worn or cracked weatherstripping to ensure a tight seal. He also suggested adding a seal along the bottom of exterior doors to eliminate drafts and keep out moisture and water.
To complete the media event, Lipford and Wolf recommended additional fall tasks including testing or replacing smoke alarms, changing air filters and cleaning refrigerator coils. They referred viewers to TodaysHomeowner.com/4seasons/fall to download their complete interactive checklist and infographic.
The national media event reached an audience of more than 20 million and was sponsored by Today's Homeowner Media and home improvement brands Ames, GutterBrush and Duck® brand. A broadcast-ready media clip from the event is available for download and use here.
About Today's Homeowner Media
Today's Homeowner is a trusted home improvement authority delivering fresh, original, practical advice to consumers across diverse media platforms including the top-rated, nationally syndicated "Today's Homeowner" television show, now in its 21st season and its radio counterpart, the nationally syndicated "Today's Homeowner" radio show. Additionally, the media brand hosts the top home enthusiast destination website, TodaysHomeowner.com, drawing more than 2 million monthly visitors, robust social media channels and the award-winning lifestyle blog and web series, "Checking In With Chelsea." 3 Echoes Productions, the professional production arm of the brand, serves an impressive national clientele with expert video services.
Host and founder of the brand, Danny Lipford, is among the most sought-after home improvement experts in the country. The seasoned remodeling contractor and media personality served as the home improvement expert for CBS's "The Early Show" and The Weather Channel for over a decade and has made more than 190 national television appearances on "FOX&Friends," "Inside Edition," "Morning Express with Robin Meade," FOX Business Channel, "Rachael Ray" and more. He travels the country making appearances as a brand ambassador and spokesperson, and contributes expertise to hundreds of popular magazines and online media outlets each year.