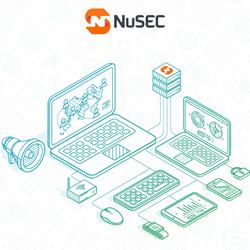 "We have a very specific aim here and that is to channel 100% of hosting customers web presence spend, back through the hosting company."
CLIFTON, N.J. (PRWEB) November 01, 2019
NuSEC's sole focus to becoming the world's most partner friendly platform for the hosting industry, including a cloud brokerage layer, allowing partners to empower their hosting business with a single integration. NuSEC (https://nusec.com) currently empowers hosters with 4 products from their platform, but as the next version of the cloud brokerage layer is rolled out, they will be adding over 40 new products, with zero additional integration required from partners on the platform.
The NuSEC Founder/Chairman, Melih Abdulhayoglu, commented on NuSEC, "We have a very specific aim here and that is to channel 100% of hosting customers web presence spend, back through the hosting company."
Starting with website scanners, looking for malware and vulnerabilities coupled with its scalable approach to cleaning all malware discovered, has seen a huge demand and interest in the NuSEC platform. On top of the remediation technology, NuSEC has world's very first fully white labelled Content Delivery Network (CDN) feeding real-time data to its own proprietary Web Application Firewall (WAF) and Security Incident & Event Management (SIEM). Now every hosting company can become a CDN under their own brand.
Hosting companies such as home.pl have a unique opportunity with the SMB market that they serve. They are typically one of the first people businesses go to when they are starting their journey towards establishing their "Web Presence" with domain names, email and hosting packages. NuSEC have a platform that will get hosting companies closer, to re-capturing the revenue when their customers go direct to other CDNs because the hosting company is not able to provide their own fully white labelled CDN to their customers.
David Meers, President of NuSEC commented on the partnership, "Meeting with Marcin and his excellent team over at home.pl, we have the foundations of an excellent partnership, combining the NuSEC security products with home.pl's unwavering focus to deliver best in class business applications to their vast customer base."
home.pl has been steadily broadening their product portfolio, offering a wide range of products and services. This latest release sees them launch cWatch website security packages to all their new and existing customers, as well as website backup, with CDN and DNS services coming next.
Marcin Kusmierz, President and CEO at home.pl had this to say about the collaboration, "It's been a great experience working with the NuSEC team to deliver this ambitious project. We've been evaluating a lot of different service providers out there for many years, but none of them can come close to what NuSEC have; a proprietary website security solution, complete with their own website backup product, their own CDN and DNS platform, all in the same API's, in a single pane of glass. It's impressive and we have plans to offer much more over the coming months and years as the partnership develops further."
About home.pl
home.pl is the largest internet service provider in Poland. As a member of the United Internet group, they are also an industry leader in Europe. home.pl specializes in registering domain names, providing hosting for websites, maintaining e-mail accounts, co-creating online stores and providing modern solutions in the form of internet applications. The home.pl customer base includes individual Internet users, micro and small companies (SMB's), but also large enterprises, international corporations, financial institutions and public administration units. The company employs over 300 people who care about the development of the business applications and customer support - 24 hours a day, 365 days a year.
About NuSEC
NuSEC is a global platform, built specifically for the hosting industry, with full white label capability and is localized for our partners' languages and currencies. Trusted by some of the largest companies, the NuSEC platform gives access to a suite of products that will channel SMB Web Presence spend back through the hosting community.