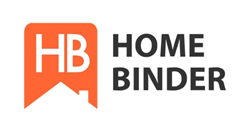 Together we are taking a monumental step towards evolving industry collaboration and innovation.
BURLINGTON, Mass. (PRWEB) May 19, 2021
HomeBinder is a leading home management platform provider that centralizes documents, projects, maintenance, home valuation, access to home professionals, and more. These capabilities are uniquely designed to provide homeowners peace of mind, maximize home value, optimize the ownership experience, as well as enable businesses servicing the homeowner to create a true "Client for Life" experience.
Coupled with the quality and expertise of The Mortgage Firm, borrowers will have the exclusive opportunity to access the HomeBinder cloud platform to centrally store all closing documents and holistically manage all aspects of home ownership. The Mortgage Firm is collaborating with HomeBinder to deliver a sophisticated, interactive homeownership process that is beneficial for the borrower and the lender. The Mortgage Firm and HomeBinder partnership will instill confidence throughout the loan lifecycle, beginning with the loan officer and extending throughout servicing.
For lenders serving the residential homebuyers' market, who want to deliver a true "wow" factor that will differentiate their offering, HomeBinder is an automated, tech-forward means to create immediate brand loyalty. "We instantly realized the HomeBinder difference," said Todd Pierson, President of The Mortgage Firm. "Our partnership will enable The Mortgage Firm to easily deliver HomeBinder's home management platform without adding any time to our loan officers' day, and establish a lifetime loyalty campaign for our borrowers," added Pierson. The Mortgage Firm will automatically provide a HomeBinder to all borrowers as a digital closing gift containing all mortgage closing documentation, helping to enhance the loan experience, improve borrower retention after closing, and increase referrals.
This exciting new affiliation further affirms the growing demand from mortgage lenders to achieve meaningful, long-term client engagement beyond the closing of the loan. "HomeBinder is excited to partner with The Mortgage Firm, as we both understand the value of educating and supporting homeowners throughout their journey of ownership," said Jack Huntress, CEO of HomeBinder. "Together we are taking a monumental step towards evolving industry collaboration and innovation."
HomeBinder - Expected by Homeowners - Driven by Lenders
About The Mortgage Firm
Headquartered in Orlando, Florida, The Mortgage Firm has been providing quality real estate financing for over 20 years. With a proven track record, we serve the lending needs of real estate professionals, builders and individual homebuyers. Our qualified and licensed professionals offer expertise in every area of mortgage lending: We have access to a full range of mortgage sources and all of our lending specialists are dedicated to finding the right loan with the best rate, terms and cost to meet your unique needs. But that's just the beginning. Throughout the lending process, our talented staff will provide regular updates and progress reports, so you know exactly where you stand, in person or online.
About HomeBinder
HomeBinder is a home management platform that provides homeowners peace of mind and maximizes home value. HomeBinder is offered exclusively through business partners serving residential homeowners, enabling them to deliver long term value to clients, remain top of mind, and generate referrals. Our select business partnerships include home inspectors, mortgage lenders, insurance providers, home service providers, property managers, builders and real estate professionals. Founded in 2012, HomeBinder currently serves all fifty States and Canada, and is based in Burlington, MA. For more information on how to create true clients for life, visit http://www.Homebinder.com.