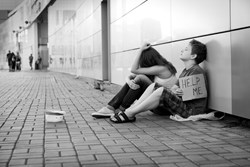 Forty-three states reported increases in the total number of homeless children and youths enrolled in public and charter schools in the 2011-12 school year.
San Rafael, CA (PRWEB) November 27, 2013
Most Americans will enjoy Thanksgiving dinner in the comfort of their own home. But for more than 1.17 million children, that won't be possible because they have no home, according to the U.S. Department of Education (DE).
That count is from the 2011-2012 school year, and reflects a 10 percent increase from the 2010-2011 school year total of 1,065,794. The states with the largest numbers of homeless students were California, New York, Texas, and Florida.
"The DE figures are a shocking reminder of the intense shortage of decent affordable housing in our country, and the consequences it has for our children," said Andre Shashaty, president of Partnership for Sustainable Communities, a national nonprofit education and advocacy group. Shashaty is also the author of the forthcoming book, "Death of a Dream: The end of 50 years of progress for cities and the rise of the new American slum".
The actual total number of homeless children is probably closer to 1.7 million, Shashaty said. This is an estimate that is based on adding to DE figures kids who are homeless but not of school age or who are not enrolled in public schools.
In 2010, the total was at least 1.6 million, according to the National Center on Family Homelessness. That was a 33 percent increase from 2007, when there were 1.2 million homeless children, the center said.
The data shows that homelessness among children has been increasing steadily on a national basis, and has increased dramatically in some states. DE said homelessness among students increased 13 percent from the 2009-2010 school year to the 2010-2011 year.
Forty-three states reported increases in the total number of homeless children and youths enrolled in public and charter schools in the 2011-12 school year.
Ten states reported increases of 20 percent or more in the number of homeless students that year. They are Idaho, Maine, Michigan, Missouri, North Carolina, North Dakota, Oklahoma, South Dakota, Vermont and Wyoming.
Just a few weeks after the DE data came out, the U.S. Dept. of Housing and Urban Development released data that claims there were only 610,042 homeless people in 2013. In other words, while DE says there were 1.17 million homeless children enrolled in school, a different federal agency says there are only 610,000 homeless people of all ages.
"If you are wondering what gives, you're not alone. The answer is that HUD does not count people as homeless if they are sharing someone else's living quarters or living in a motel that is not paid for by a government agency," Shashaty said. "Nor does it admit such people to the network of homeless shelters it operates unless they can prove their situation is temporary."
HUD only counts as homeless the people who were living in HUD-funded shelters or in the open and were willing to talk to volunteer survey workers on a single night in January when HUD does a "point-in-time" count. The fact that it is done in January each year guarantees a low count.
DE works harder to identify as many homeless students as possible because it is required by law to see that every child gets a good education, even those with no stable place to call home. School districts count a student as homeless if he or she is "sharing the housing of other persons due to loss of housing, economic hardship, or a similar reason; are living in motels, hotels, trailer parks, or camping grounds; are living in emergency or transitional shelters; are abandoned in hospitals; or are awaiting foster care placement."
"HUD refers to people who are sharing someone else's home as being 'doubled up,' as if it were a relatively minor inconvenience for them. That is a deception that gives Congress an excuse to ignore housing problems and condemns children to a very hard life," Shashaty said.
"Having a roof over one's head temporarily is not the same as having a home, especially for children. These arrangements lack any shred of security or stability, making it hard for kids to stay safe, let alone have success in school," Shashaty said.
Doubling up usually involves a poor family living with people who are just as poor but have a lease, creating enormous overcrowding and stress. Shared living quarters and motels often don't offer use of a kitchen or easy access to a bathroom, and privacy is nonexistent.
For more details on homelessness in America and other issues in affordable housing and community sustainability, go to http://www.p4sc.org. The Partnership for Sustainable Communities is a national nonprofit organization dedicated to educating policymakers and the public about housing and community development problems and solutions, all with the goal of long-term economic, social and environmental sustainability. It depends on donations and membership dues to do its work. Get details at http://www.p4sc.org. Or call 415-453-2100 x 302.