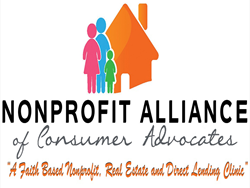 Serve All, Help All
WEST COVINA, Calif. (PRWEB) December 05, 2020
Distraught and behind on her mortgage payments, Mrs. Guajardo and her veteran husband were given a 3 Day Notice to Vacate their home. Off-course and looking for a helping hand, Mrs. Guarjardo and her husband turned to the Nonprofit Alliance of Consumer Advocates for assistance to make one last attempt to stay in their home.
The Nonprofit Alliance of Consumer Advocates is the Financial Literacy division of the faith-based 'Serve All Help All' and holds a 501 C3 credential issued by the Federal Government in 2007.
The Nonprofit Loss Mitigation Clinic, through its Senior Legal Services Director Attorney Peter Nisson, focuses on helping struggling homeowners avoid becoming homeless through foreclosure by offering completely free legal Loan Modification help and other more aggressive expert Loss Mitigation strategies.
The Nonprofit Alliance of Consumer Advocates also helps those already homeless by asking its clients to voluntarily donate bags of canned goods and nonperishables in exchange for its completely free mortgage payment assistance. Seeking a voluntary donation that goes directly to Veterans OC outreach upon being successful in obtaining their clients a loan modification. Veterans OC helps feed and house homeless U.S. Veterans. Some of those U.S vets were previously homeless and now employed through the Nonprofit clinic.
Advocate Victor Rosales, a volunteer team member of the Nonprofit Alliance of Consumer Advocates stepped in for Mrs. Guarjardo and secured a Private Investor Bridge Loan to cure the default in anticipation of Mrs. Guarjardo getting her home back. Consumer Defense Law Group, who was introduced to Mrs. Guarjardo was successful in reversing the Trustee sale and obtained a loan modification for her even though previously denied by her lender.
Mrs. Guarjardo not only got her home back into her name, she was also permanently modified and was able to use the Short-Term Bridge loan to provide her additional financial relief while she and her family go through this Pandemic.
The Nonprofit Alliance of Consumer Advocates main goal is to properly inform you of all viable options available to you to avoid continued hardship that can result in foreclosure as well as provide Direct Wholesale Mortgage pricing. To provide you with enough information and resources to make the best long-term decision for you and your family. For assistance call (855) NACA-HELP (855) 622-2435 or visit them at http://www.NacaLaw.org