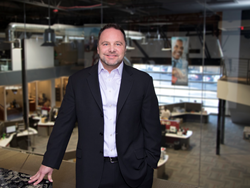 "The HomeSmart model provides agents more time and money to focus on developing their business by equipping them with technology, resources and support." - Matt Widdows, CEO and Founder of HomeSmart International
SCOTTSDALE, Ariz. (PRWEB) June 10, 2019
From the Hawaiian islands to Minnesota's bustling twin cities, fast-growing real estate franchisor HomeSmart International is proud to announce its expansion into five new states.
In the first half of 2019 HomeSmart International franchises opened in New Mexico, Hawaii, Minnesota and Georgia, marking the continuation of HomeSmart's rapid expansion into new markets. HomeSmart LLC also opened a corporate-owned brokerage in Florida.
"Expanding HomeSmart's footprint across the country is a top priority," said HomeSmart International Senior Vice President of Franchise Sales Bryan Brooks. "Over the last year and a half, we've seen franchises open in more than 20 new markets."
Designated Broker Tiffany Robison expanded HomeSmart's brokerage model into the Hawaiian Islands with HomeSmart Island Homes, which will serve agents and consumers statewide.
In Roswell, Ga., the HomeSmart Realty Partners franchise is led by broker/owner Rick Musto and will serve agents and consumers in Alpharetta, Johns Creek, Milton, Roswell, East Cobb, Cumming, Duluth, Dunwoody, Marietta, Sandy Springs and Woodstock.
Managed by owner and broker Jeff Byrd in Edina, Minn., the HomeSmart Sapphire Realty franchise will serve agents, buyers and sellers in the Minneapolis/St. Paul metropolitan areas.
In Albuquerque, N.M., qualifying broker Camille Victour has opened HomeSmart Realty Pros, which will serve agents and consumers in Albuquerque, Rio Rancho, Bernalillo, Corrales, Placitas and Santa Fe.
HomeSmart is known for its technology focus and business system excellence. The next generation platform allows agents to earn 100 percent of their commission and franchise owners to maximize profits through transaction fees and technology systems that keep service levels high and operational expenses efficient.
"Every market we enter can benefit from the combination of our proprietary technology and our 100-percent commission offering," said HomeSmart International Founder and CEO Matt Widdows. "The HomeSmart model provides agents more time and money to focus on developing their business by equipping them with technology, resources and support."
HomeSmart International operates in 27 states and has four company-owned brokerages in California and Florida, as well as Colorado and Arizona where it holds the No. 1 market share in both states.
About HomeSmart International:
Founded in 2000 by entrepreneur Matt Widdows, HomeSmart International quickly became the fastest growing real estate brokerage firm in Arizona and still holds that distinction today. HomeSmart International is ranked in the top 5 real estate brokerages in the United States, and was recently ranked as the number one brokerage firm in the Metropolitan Phoenix market and Colorado. From its international franchising headquarters based in Scottsdale, HomeSmart International began franchising in 2010, and continues to grow by offering franchisees efficiency and innovation coupled with the systems and technologies necessary to succeed in today's evolving real estate industry. Today, the brand has nearly 170 offices in 27 states and more than 16,500 agents nationwide. For more information on HomeSmart and its franchise opportunities, visit http://www.homesmart.com/. Follow HomeSmart International on Facebook at http://www.facebook.com/homesmartfranchise, on LinkedIn at https://www.linkedin.com/company/homesmart and on Twitter and Instagram @HomeSmartIntl.