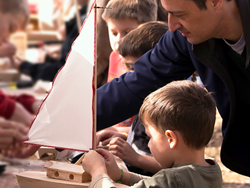 This year's Fair promises to be like no other Fair that we've ever experienced before!
WACO, Texas (PRWEB) November 19, 2020
Homestead Fair has announced the upcoming opening of their 3-day annual Fall festival on Friday, Saturday and Sunday of Thanksgiving weekend. Preparations are well underway for the 33rd annual Homestead Fair in central Texas, just north of Waco.
"This year's Fair promises to be like no other Fair that we've ever experienced before," said Fair director Josiah Wheeler. "Visitors to Homestead Craft Village have been asking us for quite awhile if we were going to have the Fair this Fall. Now we can tell them, 'Yes – the 2020 Fair is ON!' We've received approval from county officials and feel that with the adjustments currently in progress, this year's outdoor fair can provide a safe environment for our friends to enjoy during this unusual time."
Homestead Fair organizers have set in motion numerous creative changes to the Fair and fairgrounds to help prepare a safe and healthy environment for all. Each day will present a full variety of live demonstrations and hands-on activities for visitors of all ages while adjusting spaces and layout for social distancing. Hand-washing and sanitizing stations will be numerous and spread throughout the fairgrounds. "Being outside in the fresh, country air is one of the safest places to be right now," Wheeler said, "so we're happy we can offer this outdoor experience for folks looking for something to do this Fall!"
At the fairgrounds, scheduled homesteading skills demonstrations range from apple cider pressing, cheese making, bread making, soap making and sustainable gardening to horse farming, sheep shearing, horse training, goat milking and beekeeping.
"We are very excited to offer a new activity at the Fair this year," said Wheeler. "Experiences! For the first time, folks can take small group tours of our farm in the Brazos River valley beyond the Fairgrounds to explore our working farm. Experience draft horse farming, cow milking, laying hen care, food crop potential, use of farm implements, rotational crop planning and more. Ask our farm managers any question you'd like." Tickets for these experiences can be purchased online at HomesteadFair.com.
Free ongoing craft demonstrations include hand tool woodworking, blacksmithing, casting, pottery, quilting, spinning, weaving, broom making and more.
Activities for children include a hay maze, farm animal petting zoo and a kid-size barnyard with a treasure hunt.
"The Fair is our annual celebration at the end of the harvest year," commented Wheeler. "It's our Open House to celebrate with our friends and neighbors the crafts, skills, accomplishments and life of our community."
Most Popular "Must See" Events:

#1 Favorite — Sheepdog Herding Demonstration
Horse Training Demonstration
Annual Timber-frame Barn Raising
Favorite Activities:

Food Courts
Make-Your-Own Crafts
Horse-drawn Hayrides
A wide variety of free educational opportunities are presented throughout all areas of the Fair every hour on the hour. Seminars offer practical instruction from making your own sourdough bread to beekeeping to sustainable home gardening and water collection, as well as thought provoking topics such as the question of sustainability, unplugging from the matrix of consumerism and the current impact of digital technology.
Food courts and kiosks offer dozens of food, beverage and dessert items on their multicultural menus – made from scratch especially for the Fair.
Shoppers will find thousands of hand-crafted items as well as specialty foods for sale at the craft pavilion, The Barn gift shop, Homestead Farms and Homestead Gristmill.
To better plan your visit ahead of time, view the activities, schedules and map available on:
https://www.homesteadfair.com/
The event is hosted by Homestead Heritage and The Ploughshare Institute for Sustainable Culture.
What: Homestead Fair
When: 9 am to 7 pm – Nov 27 & 28 (Friday & Saturday), 10 am to 5 pm – Nov 29 (Sunday)
Where: Homestead Craft Village, 608 Dry Creek Road, Waco, TX 76705
Contact: http://www.HomesteadFair.com • 254.754.9643
Admission Tickets: Adults $10 / day • $15 per / weekend; Children 16 and under are FREE; Purchase tickets online before November 20 and get 50% off
Parking: There is no charge for parking.