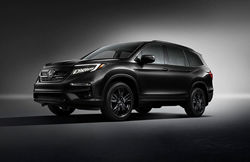 SANTA MARIA, Calif. (PRWEB) September 25, 2020
As the 2020 calendar reaches its third quarter, many automakers have begun to release their 2021 model year vehicles. For Honda, many vehicles belonging to the 2021 model year have already been announced, and many of those have been shipped to dealerships. For the Honda of Santa Maria Dealership, five 2021 models have arrived on the lot.
The 2021 Honda Insight is a hybrid sedan, and six models are presently available at Honda of Santa Maria. These models include one 2021 Honda Insight LX, three 2021 Honda Insight EX models and two 2021 Honda Insight Touring models.
The 2021 Honda Pilot is a midsize SUV. Due to popular demand, the dealership carries 21 models. Three trim levels are present among these 21 vehicles. There are nine 2021 Honda Pilot EX-L models. Color choice among the EX-L trim is limited to mostly white and silver with one blue and one red model also available. The 2021 Honda Pilot Special Edition trim is represented by 10 models with a similarly limited range of colors. There are only two models belonging to the 2021 Honda Pilot Touring trim.
The 2021 Honda Odyssey is the most recent model year of the Honda Odyssey minivan. Since SUVs are currently in higher demand than minivans, Honda of Santa Maria carries three 2021 Honda Odyssey models. Each of these models belongs to the same trim, the 2021 Honda Odyssey Touring. The dark grey steel color and white are the only colors at the dealership.
The 2021 Honda Civic is available at the Honda of Santa Maria dealership in two different trims, the 2021 Honda Civic Sport and the 2021 Honda Civic EX. There are three vehicles belonging to the Sport trim and two belonging to the EX trim.
The 2021 Honda Passport is another midsize SUV like the Honda Pilot. Unlike the Honda Pilot, the Honda Passport is designed for five seats instead of eight. The 2021 Honda Passport is represented by only two models at the Honda of Santa Maria dealership. Both models belong to the 2021 Honda Passport EX-L trim level.
For more information about these models, contact Honda of Santa Maria at 866-421-2268 or visit their lot at 2175 S Bradley Rd, Santa Maria, California.