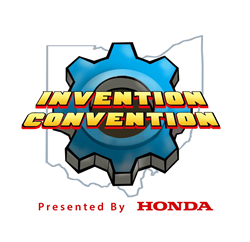 The Invention Convention and Entrepreneurship Competition provides a statewide setting for young inventors and entrepreneurs from across the state to compete and be recognized for advancements in problem identification, problem solving, invention and entrepreneurship skills
COLUMBUS, Ohio (PRWEB) July 17, 2018
The Invention League launches the second annual State Invention Convention and Entrepreneurship Competition and the 25th Invention Convention Competition in Ohio; a statewide competition for students to display their problem-solving and critical-thinking skills through products they have invented. The annual event, backed by major technology sponsors including the title Supporting Partner, Honda of America Mfg., Inc., will be held in the Cardinal Hall Building of the Ohio State Fair on Sunday, July 29.
This event will host 500 K-12 students from around the state as they demonstrate and discuss the business cases for their inventions–ranging from innovations across multiple categories–covering everything from health and safety to pet and household improvements that can positively affect the lives of thousands. The talented, young inventors will be judged and compete for honors on their innovative approaches to solving a problem through invention as well as their prospects for creating viable enterprises in industry innovation.
"Educators, employers and policymakers agree that the U.S. must grow innovative thinkers and problem solvers in order to create a sustainable future," said Invention League's Executive Director, Veronica Lynagh. "To make this dream a reality, we need competitions in youth invention and entrepreneurship to drive more programs into schools, and to excite and inspire students to invent new solutions to the world's problems."
Bobbie Jo Trittschuh, Honda's Community Relations Manager added, "The Invention Convention and Entrepreneurship Competition provides a statewide setting for young inventors and entrepreneurs from across the state to compete and be recognized for advancements in problem identification, problem solving, invention and entrepreneurship skills—these skills are important for society and for employers like Honda as we continue to develop innovative products right here in Ohio."
Competitors at the event will win continuing education scholarships and sponsor-gifted prizes to help them take their inventions and their educations to the next level. The top 10 inventions will have their prototypes displayed at the Lausche Center throughout the duration of the fair.
The 2018 Ohio State Invention Convention and Entrepreneurship event is supported by sponsors who realize the pressing need to add STEM-educated and invention-skilled youth to their respective workforces, and who are dedicated to inspiring the next generation of scientists, engineers and financial professionals by sparking students' interests in STEM and STEAM invention and innovation. It is critically important for humanity to help provide tomorrow's great minds with the skills needed to develop the future's next-generation technologies.
********
About The Invention League
The Invention Convention program, provided by the Invention League, is a free, STEAM-aligned educational program aligned with Ohio's Learning Standards, National Science Standards and is the only pathway for Ohio students to the National Invention Convention and Entrepreneurship Expo (NICEE). The Invention League is a 501c3 that, in addition to hosting the Invention Convention program, also provides Inventor Experiences and multiple continuing-education opportunities for educators. The Invention League, "Where problem solving is our superpower!"
About Honda
Honda's rich history in the state of Ohio began in September 1979 with the production of motorcycles in Marysville, Ohio. In November 1982, Honda became the first Japanese automaker to begin automobile production in the U.S. at its nearby Marysville Auto Plant. Construction of an engine plant in Anna, Ohio and a second Ohio auto plant located in East Liberty quickly followed these operations. A third automotive plant, the Performance Manufacturing Center in Marysville, Ohio, started the exclusive production of the Acura NSX in 2016, the only supercar designed, developed and manufactured in the U.S. Honda's Ohio operations employ more than 15,000 associates.
Honda offers a full line of reliable, fuel-efficient and fun-to-drive vehicles with advanced safety technologies sold through over 1,000 independent U.S. Honda dealers. The Honda lineup includes the Fit, Civic, Accord and Clarity series passenger cars, along with the HR-V, CR-V and Pilot sport utility vehicles, the Ridgeline pickup and the Odyssey minivan. Honda currently operates 19 major manufacturing facilities in North America.