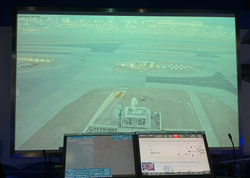 MONTREAL (PRWEB) November 20, 2014
Matrox® Graphics Inc. today announced that the Hong Kong Civil Aviation Department (HKCAD) has successfully installed Matrox Maevex™ H.264 encoders and decoders to stream live, low-bandwidth, 1080p60 ATC tower camera footage to its HKCAD Education Path aviation gallery 2 km (1.2 mi) away. Selected for its ability to distribute high-quality video at low, user-definable bit rates (100 Kbps to 25 Mbps), the Maevex AV-over-IP platform lets HKCAD present a dynamic air traffic control exhibit to the gallery's visitors.
After evaluating several third-party AV-over-IP options, HKCAD brought in local IT solutions provider Amara International Ltd. Amara recommended the cost-effective Maevex encoder/decoder system. Amara demonstrated how the bundled Matrox PowerStream™ software can be used to easily customize the bit-rate limit to the existing infrastructure's available 8Mbps. As a result, HKCAD was able to stream smooth and uninterrupted traffic footage from a 1080p60 HD camera in Hong Kong International Airport's ATC tower to the off-site Epson® HD projector, giving gallery visitors a highly engaging air traffic controller experience.
"Pristine image quality, low-bandwidth consumption, high stability…these are the qualities that make Matrox Maevex a unique AV-over-IP solution," said Miss Michelle Siu, Project Officer at the Hong Kong Civil Aviation Department. "Matrox Maevex was instrumental in helping us stream video over our existing IP network and we are very satisfied with the equipment's performance so far."
To read the complete story and view pictures, visit http://www.matrox.com/graphics/hkcad.
See Matrox Maevex demonstrated live at ISE 2015 (Amsterdam RAI, NL, February 10-12, stand #11-F68).
About Matrox Graphics Inc.
Matrox Graphics is a global manufacturer of reliable, high-quality ASICs, boards, appliances, and software. Backed by in-house design expertise and dedicated customer support, Matrox products deliver stellar capture, extension, distribution, and display. Engineering high-quality products since 1976, Matrox technology is trusted by professionals and partners worldwide. Matrox is a privately held company headquartered in Montreal, Canada. For more information, visit http://www.matrox.com/graphics.
Media Contact:
Janet Matey
Media Relations Manager
Tel: +1 (514) 822-6037
Email: pr(at)matrox(dot)com
Matrox and Matrox product names are registered trademarks and/or trademarks of Matrox Electronic Systems, Ltd. and/or Matrox Graphics Inc. in Canada and/or other countries. All other company and product names are registered trademarks and/or trademarks of their respective owners.