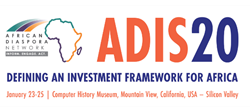 SILICON VALLEY, Calif. (PRWEB) January 15, 2020
Eritrean native, Founder and Executive Director Almaz Negash hosts this event annually at the Computer History Museum, and this year's symposium is themed, "Defining an Investment Framework for Africa." In addition to her work with ADN, Negash, from 2017-19, served as a member of the United Nations Economic Council for Africa High Level Panel on Immigration and Migration, and was the director of the Global Leadership and Ethics at the Markkula Center for Applied Ethics at Santa Clara University.
Presenting as this year's keynote speakers are the Honorable Joseph Mucheru, current Kenyan Cabinet Secretary in the Ministry of Information and Communications, Ms. Mimi Alemayehou, recent board member appointee of ONE Campaign group and Managing Director of Black Rhino Group, Ms Thelma Ekiyor, Managing Partner, SME.NG, and Luam Luam Keflezgy is a celebrity choreographer & creative director. Furthermore, more than 11 African entrepreneurs from 6 different countries in Africa will be awarded with the selective Builders of Africa's Future fellowship.
ADN's annual flagship symposium convenes entrepreneurially-minded, Africa-focused, high-level leaders and professionals from across the world for insightful dialogue around investment and innovation in Africa as well as partnership and mentorship opportunities. Over 50 African entrepreneurs from organizations like Harambeans, Stanford Seed, Segal Family Foundation and MIT D-Lab will attend. This year's symposium has attracted the attention of large companies like VMware, Facebook, Genentech, Johnson and Johnson, creating an invaluable opportunity for these entrepreneurs across Africa to engage with investors and tech giants alike, in Silicon Valley.
ADIS2020 seeks to define an investment framework for Africa through workshops, panel discussions, fireside chats, and participant-driven design labs focused on designing streamlined and sustainable systems across the continent. With a key emphasis on harnessing the power of digitization, major themes include "Designing Streamlined and Sustainable Systems Across the Continent" and "Investment and Entrepreneurship to Build Thriving Communities in Africa."
This year's event is being sponsored by The County of Santa Clara, Segal Family Foundation, Mastercard Foundation, eBay, Johnson & Johnson, Conrad N. Hilton, Hugh Stuart Center Charitable, United States African Development Foundation, SAP, The Africa-America Institute, King Baudouin Foundation United States, Stanford Seed, Atlas Network, EY, IDP Foundation Inc., Silicon Valley Community Foundation, Facebook, Harambeans, William H Cilker Family Foundation, Twum Djin, Dawit Habtezghi, Hugh Molotsi, Abbey Omokhodion, Joshua Ghaim, Charlie Adams, David Wilde, Mr. Terry Gannon & Mrs. Carolyn Gannon, Duncan Goldie-Scot, and Regga Tekeste.
ADIS 2020 partners include, USAID, State Department, Frugal Innovation Hub, Miller Center, Lofty Inc. Allied Partners Ltd., Ashesi University Foundation, and American Homebuilders.
The event will be held at the Computer History Museum in Mountain View, CA. Tickets can be purchased on Eventbrite. For more information about speakers, sponsors and agenda, please see http://www.adis20.com
About African Diaspora Network:
African Diaspora Network is a registered 501(c)(3) nonprofit membership organization. Our mission to harness and engage the intellectual, financial, philanthropic and entrepreneurial capacity of Africans and friends of Africa in support of economic and social development across Africa. Since 2010, the African Diaspora Network (ADN) has energized collaboration among Silicon Valley entrepreneurs, philanthropists and African diasporans to uplift its local community towards the benefit of Africa. ADN is dedicated to providing virtual and physical forums to accelerate access to resources that foster partnership, knowledge sharing, and advance investment opportunities.