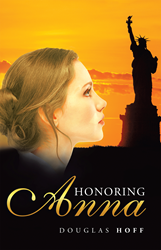 "A wonderful and beautiful book," said Sharon Costner. "I was blown away by the beauty of the story, and I became so involved with Anna that I felt like one of her friends."
SPEARFISH, S.D. (PRWEB) December 03, 2018
"Honoring Anna" by Douglas Hoff is the true story of his wife's grandmother, Anna Ingevich, as she journeys from Norway to follow the American Dream in the early 20th century.
Hoff was inspired to write "Honoring Anna" to preserve a piece of family history and honor the life Anna, and many others led as Norwegian immigrants in the early 1900's. On Anna's journey and as she settles into her new life as an American citizen, she makes unbreakable bonds which are all tied together in a serendipitous ending of honor, love, and family.
"I hope to inspire our generation and future generations to their standards of honor and integrity," the author said.
"A wonderful and beautiful book," said Sharon Costner. "I was blown away by the beauty of the story, and I became so involved with Anna that I felt like one of her friends."
"A Captivating story, overflowing with romance and adventure." – Kirkus Indie Book reviews
Readers will enjoy this true story which gives a glimpse of life in the early 1900s and will relate to the inspiring nature of Anna's story.
"Honoring Anna"
By Douglas Hoff
ISBN: 9781532041952 (softcover); 9781532041976 (hardcover); 9781532041969 (electronic)
Available at the iUniverse Online Bookstore, Amazon and Barnes & Noble
About the author
Douglas Hoff is a retired rancher, owner of Hoffs Scotch Cap Angus Ranch and former co-owner of Angus America Corp. with Cargill Corp. His accolades include North American Seedstock Producer of the Year, 2000 "US Livestock Man of the Year", and South Dakota Young Farmer of the Year. He was on the National Purina Advisory Board and has judged cattle at the National Western Stock Show, American Angus Futurity, and several state and county fairs. He resides in Spearfish, South Dakota.