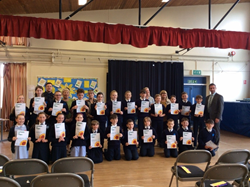 Hope is tangible and teachable. It is an essential ingredient for a successful life trajectory
San Francisco, CA (PRWEB) June 23, 2017
Ulster University, Magee Campus in Northern Ireland is hosting The Schools for Hope Conference on 26th June, 2017 from 9 am to 3 pm to present to graduate students exciting new and innovative hope research based on iFred's "Schools for Hope" curriculum. The program is an original curriculum project led by The Health Improvement Service of the Western Health & Social Care Trust (WHSCT) in partnership with the International Foundation for Research and Education on Depression (iFred), The Outer West Neighbourhood Renewal Partnership(OWNRP) and Community partners, Ulster University (UU) and local Primary and Secondary schools in the area. The conference is open to the public through online registration, and iFred plans to livestream, via their Facebook page, from 9 am to 3 pm.
A pilot program was implemented over a ten-week period in five primary schools and two secondary schools in the Derry and Strabane areas, and was realized with a unique partnership model and as an effective Community Planning example of collaborative action involving the Community, Local Schools and Health and Education statutory bodies. The tailored International Program was researched, planned, developed and delivered by the WHSCT and the community and monitored and evaluated by Ulster University. The research from the pilot program will be presented at The Schools for Hope Program on June 26th with the highlight undoubtedly being the International Program Founder Kathryn Goetzke and colleagues Myron L. Belfer, MD, MPA and Kristy L. Stark, M.A., Ed.M., BCBA as keynote speakers at the Conference.
The original program was developed by Kathryn Goetzke founder of iFred (The International Foundation for Research and Education on Depression) and links have been forged to develop a tailored localized program in Derry and Strabane. The program itself is based on research that suggests hope is a teachable skill. It aims is to equip students, educators, and parents with the tools they need to find and maintain Hope even during the most trying of times.
Kathryn Goetzke, iFred Founder, states: "We developed this program based on the shocking statistic published in the Journal of Adolescent Health that 1 in 9 kids were self-reporting suicide attempts prior to graduating high school, with a spike at age 11. We knew we couldn't address everyone, so we started at the critical age of 10 to help build skills at a critical time.
"Since hopelessness is the primary symptom of suicide and the #1 symptom of depression, it only made sense to create a program for prevention to focus on hope. After studying all the current literature on hope, suggesting it was a skill that could be taught, we home in on this as our programmatic solution. We are so thrilled with this unique collaboration and this incredible opportunity in Northern Ireland, as it engages all stakeholders in the community and is allowing us to comprehensively evaluate, improve, and create an evidence-based platform to teach Hope globally."
Kathryn's colleague, Dr. Myron Belfer, MD, MPA and Professor of Psychiatry in the Department of Psychiatry, Children's Hospital Boston, Harvard Medical School outlined that it is important to note, "Hope is tangible and teachable. It is an essential ingredient for a successful life trajectory."
Kristy Stark, M.A., BCBA, Ed.M. Candidate, adds "Hope is a powerful catalyst. On its own, it can support human development and move people closer to their goals. In a meta-analysis published this year (Marques, Gallagher, & Lopez, 2017), for example, it was revealed that hope predicts academic outcomes, including GPA. At the Harvard Graduate School of Education and in academic institutions across the globe there has been a steadily increasing interest in hope and other noncognitive factors in education. The most exciting development emerging from recent research is that hope can be learned."
The Schools for Hope Curriculum aims to improve hope among students. Data was sourced from pre and post hope curriculum questionnaires that valuated the participant's overall understanding of the concept of hope. The Program is being monitored by Ulster University. Research by iFred Illustrates that The Hope Curriculum implemented in schools is an effective means of teaching the concept of hope. It has also been found that a greater level of hope results in greater well-being, and the fact that hope is vital to success. Ulster University will demonstrate the findings of the Derry and Strabane based pilot program at the centre of the conference with further collaborations and programs planned in the coming year.
Dr. Kirby from the Psychology Research Institute at Ulster University noted that "hope encompasses many links with positive mental and emotional health and wellbeing. Hence, the evaluation of the Hope program will allow us to determine whether children develop not just better scores on a hope measure, but also better coping skills, better emotional regulation and emotional resilience, in addition to ultimately reducing the concept of hopelessness from ever developing the minds of young people."
Marie Dunne is a mental health specialist and principal pioneer of both the program and the WHSCT. She commented on the cutting-edge program outlining that "the aim of this project is to equip young people with information, knowledge and skills that will give them the personal self-esteem to nurture healthy relationships with themselves and those around them to improve their quality of life. Above all, it will also teach them to have Hope and additional skills of understanding and managing their own mental well-being and the tools with which to so."
The Outer West Neighbourhood Renewal Partnership manager acknowledged, "through the development of a new community based hope curriculum, we aim to equip children and adolescents with the social and emotional learning tools necessary to have and maintain hope throughout life, as well as providing a long-term resource for suicide prevention." The Health Improvement Department, Outer West and community partners, Ulster University and local schools are working closely to develop this program initiative further.
The Schools for Hope Conference will outline both international and local implementations of the programs and the benefits evident through the research findings. Other speakers on the day include Brendan Bonner, PHA, Maura O'Neill, Health Improvement Department, WHSCT, Mairead Mc Cafferty, CEO Northern Ireland Commissioner for Children and Young People, partners, Marie Dunne, Wendy Gibbons, Dr. Karen Kirby, and of course the voices of the facilitators and local school children who participated in the program. The conference will celebrate Hope through our children and young people's voices and indeed illustrate that it is teachable in order to: Build coping, resilience and Hope in children and young people of Northern Ireland because prevention is better than cure!
Register for the conference at the link below:
https://www.eventbrite.com/e/schools-for-hope-conference-tickets-34967582982
About iFred:
The mission of International Foundation for Research and Education on Depression (iFred) is to shine a positive light on depression and eliminate the stigma associated with the disease through prevention, research and education. Its goal is to ensure 100% of the 350 million people affected by depression seek and receive treatment.
iFred is creating a shift in society's negative perception of depression through positive imagery, engaging with influencers to executive high impact and effective campaigns, and branding-establishing the sunflower and color yellow as the international symbols of hope for depression. To further its mission, iFred created Schools for Hope, a free online curriculum aimed at teaching Hope to young kids based on research it is a teachable skill. Find out more at http://www.ifred.org.