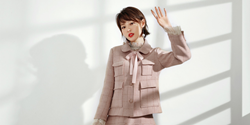 At any stage, delays or problems can be handled right away.
CAMPBELL, Calif. (PRWEB) September 03, 2020
HOPESHOW, a leading Chinese womenswear brand, has successfully implemented Centric Software's Product Lifecycle Management (PLM) solution, and Centric is celebrating with the release of a success story. Centric Software provides the most innovative enterprise solutions to fashion, retail, footwear, outdoor, luxury, consumer goods and home décor companies to achieve strategic and operational digital transformation goals.
Founded in 1995, HOPESHOW is a brand targeting urban women aged 25-40 that belongs to the the Hangzhou-headquartered Hongjin Fashion Group. The group has a national sales network of 1,600+ outlets, employs 4,000+ people and makes in excess of 10 million garments every year.
Seeking to organize product data and optimize decision-making, HOPESHOW decided to implement a PLM solution. Centric Fashion PLM was selected for its real-time online operations, visual interface and synergy with other enterprise solutions.
Ms. Liu Hua, Founder and Chairperson of HOPESHOW, explains, "We could not rise to market challenges with our basic R&D model. Fashion brands need a digital R&D model to help design and R&D teams maximize their expertise, optimize business processes and improve work efficiency, while maintaining a balance of creativity and newness combined with the voice of the customer."
With Centric PLM, teams can make rational decisions using detailed, organized, up-to-date product data. Preparing for a buying session used to take seven days, but now takes seconds.
"Centric Fashion PLM allows all teams to track the entire development process of each style," explains Ms. Wang Xiulan, Product Director of HOPESHOW. "At any stage, delays or problems can be handled right away. It also gives us complete transparency on the detailed prices of fabric and trims. That helps us accurately estimate costs at the initial stage of development and ensure profit margins."
Centric PLM has since been adopted by H'S, another brand in the group, and HOPESHOW intends to implement advanced applications for planning, 3D design and more.
"We're delighted that HOPESHOW is experiencing great results," says Chris Groves, President and CEO of Centric Software. "HOPESHOW is a future-focused brand that is using Centric PLM to power strategic decision-making and better meet consumer demand."
Read the HOPESHOW success story
Learn more about Centric Fashion PLM
HOPESHOW (http://www.hopeshow.com)
Established in 1995, HOPESHOW is a fashion brand of Hongjin Fashion Group. Targeting urban women aged 25–40, HOPESHOW designs a full line of stylish products that fit the lifestyles of "elegant, beautiful and low-key" modern women.
The group engages in design, R&D, production, sales and management, and also has under its umbrella excellent clothing brands for women, men and kids like H'S, NEELLY, M.latin and GRSAGA. By offering consumers a range of aesthetic experiences through differentiated designs, the group aspires to stand out from the rest and lead China's fashion industry. The group has a national sales network of over 1,600 outlets. It employs over 4,000 people and makes more than 10 million garments every year.