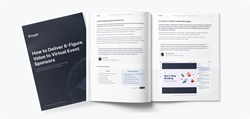 So while brands are naturally skeptical about virtual events, that value is still there. We sold packages ranging from $2,000 to $50,000, and we got very positive feedback about the results.
LONDON (PRWEB) August 17, 2020
Hopin, a virtual events platform, has published a new whitepaper that examines how event organizers can land six-figure sponsorship packages for their next virtual event. With actionable tips for event teams and plenty of easy-to-digest graphics and practical examples, Hopin's whitepaper, How to Deliver Six-figure Value to Virtual Event Sponsors, is your guide to sponsoring virtual events.
Reflecting on the findings and recommendations in the whitepaper, Dave Schools, Head of Marketing at Hopin, shared, "It's a myth that virtual events are unable to deliver similar value to sponsors as on-the-ground events — over the last six months, we've watched thousands and thousands of sponsors find that their sponsored events hosted on Hopin are just as interactive, engaging, and effective to achieve their business goals as physical events."
The whitepaper shares a number of benefits sponsors gain from hosting an event on Hopin's virtual event platform, including branding opportunities, data, reach, engagement with your messaging, leads, and momentum.
One way organizers can deliver high value to their virtual event sponsors is through data. For example, on an event platform like Hopin:

The average turnout rate for events hosted on Hopin is 80%.
The average length of events hosted on Hopin is 34 hours.
The average number of attendees who navigate to the Expo area is 60.6%.
Event organizers on Hopin can also deliver engagement analytics to sponsors, including:
Who went where and for how long
Who registered interest (i.e., badge scan) at digital booths
How many people were [where] throughout the event
Participation duration and turnout rate
Who connected with who
One first-time sponsor of an event hosted on Hopin said this to the organizer afterward:
"Kudos to you all! This Hopin/virtual thing has been a success from where I sit...literally and figuratively. Very easy to navigate, intuitive. What more do you need than access to presentations, sponsor 'booths', other attendees to chat, breakouts....and best of all, 'virtual tastings', i.e., an opportunity to identify and follow-up with prospects. We have already identified and followed up with more prospects than we EVER have at ANY conference. Again, VERY well done! Thank you to you and your team!"
"Having run both physical and virtual events, we've seen that the mix of value for sponsors is a little different online. So while brands are naturally skeptical about virtual events, that value is still there. We sold packages ranging from $2,000 to $50,000, and we got very positive feedback about the results," said Ryan Selkis, founder and CEO of Messari, which hosted its inaugural crypto summit on Hopin earlier this year.
Download the whitepaper on Hopin's website to learn how to generate six-figure sponsorship revenue. And, learn how one company landed a $220,000 in sponsorship revenue with one event on Hopin.
Download How to Deliver 6-Figure Value to Virtual Event Sponsors: https://hopin.to/whitepaper.
About Hopin
Hopin (https://hopin.to/) is the first all-in-one virtual events platform. Hopin helps you transform your physical event into an exciting virtual event for a global audience. No travel required. Hopin is built for events of all shapes and sizes from private, password-protected events to large global events that are invite-only. Each event hosted on Hopin has over 70 platform features, including reception, stage, sessions, 1:1 video networking, interactive expo booths, and more. Event organizers can sell tickets directly through Hopin, or make their events free. Hopin is flexible, giving you more time to focus on what truly matters — connecting people. Hopin is everything you need to host hybrid and virtual events — all on one platform.