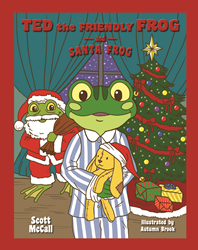 My family has always made Christmas about spending time together and having many laughs. When writing the Ted the Friendly Frog book series...I wanted the reader to experience the great stories and adventures with Ted the Friendly Frog. - Scott McCall, author of Ted the Friendly Frog and Santa Frog
DALLAS (PRWEB) October 01, 2019
It's the most wonderful time of the year, and the beloved Ted the Friendly Frog series continues as Ted and his brother Brad await the arrival of Santa Frog in Ted the Friendly Frog and Santa Frog (Brown Books Publishing Group), which releases today, October 1, 2019. On Christmas Eve, Ted and Brad snuggle by the fire as their father tells them the magical story of his encounter with Santa Frog. From cups of cocoa and cozy mittens to snowmen and presents, Texas author Scott McCall offers a richly-illustrated and heartwarming tale that will surely excite young readers and their families this holiday season.
"Christmas has always been a wonderful holiday for our family," said McCall. "My family has always made Christmas about spending time together and having many laughs. When writing the Ted the Friendly Frog book series...I wanted the reader to experience the great stories and adventures with Ted the Friendly Frog."
Scott McCall began writing short stories to help his son learn how to read. Together, they crafted rhyming stories that later inspired the Ted the Friendly Frog series. This entertaining and meaningful series teaches children simple yet valuable lessons about family and friends that will remain with them even after the last page is turned.
As a master with words and rhymes, Scott McCall provides a fantastic, "ribbit-ing" read this holiday season with Ted the Frog and Santa Frog! For more information about the series and author, visit http://www.scottmccallbooks.com.