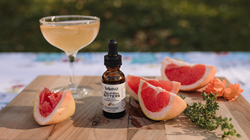 Harrisonburg-based Red Root & Co, a producer of plant-based oxymels, shrubs, tonics, syrups, and bitters, has achieved national recognition as a finalist in the upcoming Good Food Awards. Their Hops & Citrus Bitters, infused with natural botanicals, is among just 25 other products in their category.
HARRISONBURG, Va. (PRWEB) December 18, 2020
Red Root & Co, a producer of plant-based oxymels, shrubs, tonics, syrups, and bitters has achieved national recognition with their recent Good Food Awards Finalist status. Their Hops & Citrus Bitters was selected as a finalist along with just 25 other products in the Elixirs category in the upcoming 2021 Good Food Awards.
"We are so honored by this acknowledgment and delighted to be amongst a group of other innovative, environmentally and socially responsible food crafters," says Corey MacDonald, owner and founder of Red Root & Co. "The Good Food Foundation really shares our values, so being selected as a finalist validates our ethos in a really meaningful way."
The Good Food Awards are just one part of the mission of the Good Food Foundation, which is "to celebrate, connect, empower and leverage the passionate and engaged, yet often overlooked, players in the food system who are driving towards tasty, authentic and responsible food in order to humanize and reform our American food culture." Over 2,000 entries from all 50 states are submitted each year. 2021 marks the 11th year the Good Food Awards have taken place.
Red Root & Co is a finalist for the "Elixir" Category and is among 25 other finalists in the category from all 50 states. All finalists have to adhere to a strict set of standards to qualify, including being free of any artificial ingredients, made in the USA, and made by a crafter that is an "upstanding member of the good food community, committed to equity, inclusion, and justice in all levels of their business."
Red Root & Co's Hops & Citrus Bitters are made with infusions of natural botanicals, including the tart notes of hops & citrus balanced by softer edges of berries and tulsi. Generally used in fine cocktails, craft beverages, or just mixed with soda–bitters also have a delicious place as aperitifs and digestifs. Red Root & Co wants to inspire its customers to consume creatively with their bright and citrusy Hops & Citrus bitters, made with care using high-quality and organic ingredients.
Despite the traditional view of bitters merely being an add-on of lesser importance when making a cocktail, Red Root & Co is using the power of plants to give bitters a more important role, both in terms of flavor and health benefits. When creating her products, herbalist Corey MacDonald takes all characteristics of each plant into careful consideration. "Bitters are a great place to start introducing the vitalizing power of plants to a modern diet. Taken just as a supplement, bitters are a helpful aid before and after eating a meal, or just to calm a rumbling stomach," says Corey MacDonald. "But we also love the role they play for the home bartender. Herbalists are people, too! And our bitters are part of some delightful cocktails and mocktails, and using our blends is a way to bring more of the plant world into your favorite indulgence."
The 2021 Good Food Award winners will be announced via livestream on Friday, January 22, 2021, from 5:30 pm-7 pm. You can shop the winning products on the Good Food Foundation's virtual pop up shop from January 25-February 5, 2021. For a more personal tasting experience, you can buy tastings of all the winning products via the Virtual Mercantile, where you'll receive samples and guided tasting sessions to join virtually. Learn more about Red Root & Co's Hops & Citrus bitters and shop online to try them for yourself here.
About Red Root & Co:
Founded by a certified herbalist, Red Root & Co was established on the premise that plants change lives. Each Red Root & Co recipe is crafted in the herbalist tradition using quality ingredients responsibly sourced – farmer-direct, organic or fair trade. The company's herbal creations support healthy lifestyles with products for health & wellness, beverage, and culinary use.
About the Good Food Awards
The Good Food Awards celebrate the kind of food we all want to eat: tasty, authentic and responsible. Now in its eighth year, awards will be given to winners in 17 categories: beer, charcuterie, cheese, chocolate, cider, coffee, confections, elixirs, fish, grains, honey, oils, pantry, pickles, preserves, snacks and spirits. The Good Food Awards Seal, found on winning products, assures consumers they have found something exceptionally delicious that also supports sustainability and social good.
About the Good Food Foundation
The Good Food Awards is organized by the Good Food Foundation 501 (c) 3, formerly known as Seedling Projects, in collaboration with a broad community of food crafters, grocers, chefs, food writers, activists and passionate food-lovers. The Good Food Foundation is also the organizing force behind the Good Food Guild, Good Food Mercantile and Good Food Merchants Collaborative.