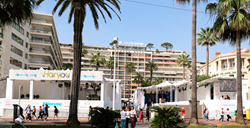 At the heart of the Cannes Film Festival, Horyou will be presenting a groundbreaking initiative promoting social good.
New York, NY (PRWEB) May 14, 2015
Horyou, the Social Network for Social Good, will present Horyou Village at the 2015 Cannes Film Festival, cinema's premiere celebration and an epicenter of talent and creativity. For 12 days, Horyou Village will highlight the values of social good through the lenses of art, culture and diversity. Horyou invites media of all varieties to visit and cover this inaugural affair, where notable personalities and non-profit organizations from around the world will join efforts to spread positivity.
Media and Cultural Partners
International media outlets from widespread regions have partnered with Horyou for this occasion:
Argentina: ABC Mundial - Brazil: Cabelos&Cia, Instituto Filantropia - Cameroon: Mosaïques Africa, Nyanga,Cameroon Tribune – Chad: ONRTV - China: Franceqw.com, Nouvelles d'Europe, Paris 818, People's Daily (Overseas Edition), Phoenix TV, YCWB, 37VIP, Concorde Travel Associates, Xineurope - Colombia: Enter.co - France: Art of Change 21, BDM TV, Blog de Cannes, Celo Cannes, Cinezik.fr, Inside Cannes, Néoplanète, Persomania, Ushuaïa TV, Cannes Tendances - India: New Indian Express - Italy: InTime - Mexico: Arteycultura.com, DocsDF, SeResponsable.com - Monaco: Radio Ethic - Panama: Albatros Media - Rwanda: Igihe - South Africa: Nunnovation - Switzerland: L'Humanosphère, Ours Magazine - United Arab Emirates: CEO Clubs Network - United Kingdom: Pioneers Post, Springwise - United States: Aussie Traveller, Beeby Clark+Meyler, Illusion Magazine, Live Earth, One Common Unity, On Location Vacations, PVBLIC Foundation, React to Film, Mom Blogger for Social Good, Topi, World Chamber of Commerce - Venezuela: A Todo Momento, Noticias Exceso.
Cultural diversity will play a key role at Horyou Village for the duration of the Festival. Celebrating this richness and variety of culture will be a distinctive group of partners, including the Shaanxi History Museum (China), the Nanjing Museum (China), the Bibliotheca Alexandrina (Egypt), and the National Audiovisual Institute (France).
Featuring live music and other performing arts, as well as interactive stage interviews, Horyou Village will be a focal point where attendees and participants will experience a community of people making a difference with their actions and projects. It will also include an exhibition area, a screening room and a media lounge.
Among the various activities scheduled to take place at the Village, Horyou will feature five Global Cause Days: Nature & Wildlife (May 17), Education for All (May 18), Women Empowerment (May 19), Innovation for Good (May 20) and All for Climate (May 22). Each day will be committed to sharing knowledge, raising awareness and promoting solidarity among those devoted to the featured causes.
In collaboration with Horyou, the PVBLIC Foundation will host special appearances during the Global Cause Days. They will include Live Earth: Road to Paris, which was developed to increase environmental awareness. It was founded by Emmy-winning producer Kevin Wall and former U.S. Vice President Al Gore, and will be a highlight of All for Climate. The United Nations documentary "‪Clouds Over Sidra", made in partnership with Samsung Oculus Virtual Reality, follows the life of a 12-year-old Syrian refugee in Jordan and will be shown during Innovation for Good. ‬‬‬‬
Another special presentation, to take place during Nature & Wildlife, will be Ushuaïa TV's premiere of "Insécurité alimentaire: l'ultime combat," a documentary that chronicles one man's return to Benin to address the rampant malnutrition there. ‬‬‬‬‬In addition, journalist Christine Oberdorff will lead the Nature & Wildlife panel titled "Can indigenous peoples, essential safeguards to the survival of nature and man, count on the cinematic world to be their spokesmen?"
Join Us at Cannes
The eyes of the world are on Cannes during the amazing cultural event that is its International Film Festival, and Horyou Village will figure prominently in the gardens of Le Grand Hotel on the Croisette. Horyou invites the media to enjoy and share this singular celebration of art, diversity and the promotion of social good. Press accreditation will be offered via media(AT)horyouvillage.com.
About
Horyou is the Social Network for Social Good. Its Members, Organizations and Personalities promote a humanistic approach to technology to encourage positive action, provide quality content and prompt meaningful interaction. At Horyou, social networking facilitates the process of transforming ideas into concrete actions, while contributing to the building of constructive relationships between the online and offline worlds. Let's Dream, Inspire and Act.
For more media information and accreditation, contact:
media(at)horyouvillage.com
For partnership opportunities, contact:
partners(at)horyouvillage.com