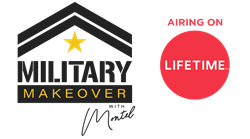 He loved being American and serving his country, and he instilled it in his students," said Debra HIxon, wife of the late Chris Hixon, Athletic Director and Wrestling Coach at MSD High School, and 27 year U.S. Navy veteran.
DEERFIELD BEACH, Fla. (PRWEB) November 15, 2019
U.S. Navy veteran Chris Hixon, a 27-year veteran (5 active, 22 reserve) who served in Desert Storm and Desert Shield, sacrificed his life on February 14, 2018, when the Athletic Director ran into Marjory Stoneman Douglas High School and tried to save the lives of students by disarming an active shooter. Hixon is survived by his wife Debra and their two sons, Thomas and Corey. Chris Hixon received Military Funeral Honors before he was laid to rest at the early age of 49. "He loved being American and serving his country, and he instilled it in his students," said Debra. Debra is a 29 year teacher in the Broward County School System and serves as a Magnet Coordinator.
In true Military Makeover style, Military Veteran and Host Montel Williams, the cast and crew, special guest WWE Superstar Lacey Evans and equally passionate national brands, Simon and Goodman Manufacturing, and local companies, City Furniture and Allied Kitchen and Bath, come equipped with building supplies, designs, furniture, gifts and so much more. Military Makeover invites volunteers to step up and lend a hand in support of the Hixon family throughout the renovation process. The final reveal unites the entire community, cast, brand partners and volunteers, creating a true "community celebration" of support for the transformation they have created together.
Filming begins December 2, 2019, and ends with the BIG REVEAL on December 13, 2019.
Interviews available with Montel, the cast, WWE Superstar Lacey Evans, and all brand partners during scheduled press times below:
December 10 – 12 (Daily press time 11-noon and 1-2pm)
December 13 (Press and community invited to BIG REVEAL at 3pm; press time afterward)
RSVP to Lisa@Kristenr.com
Military Makeover will air on Lifetime TV on February 14, 2020, at 7:30am EST.
All previously aired episodes may be viewed on militarymakeover.tv or brandstar.tv.
###
Military Makeover with Montel®, A BrandStar Original, is America's leading branded reality TV show, offering hope and a helping hand here on the home front to members of our military and their loved ones. Talk show legend and military advocate Montel Williams, a veteran of both the Marine Corps and the Navy, creatively co-produces the show and works with a colorful cast that seeks to transform the homes and lives of military families across the country. The cast includes co-host Art Edmonds, designer Jennifer Bertrand and contractor Ryan Stanley. This special series enlists caring companies of all sizes as well as nonprofits and the local community. Help starts at home for veterans on Military Makeover. Join us as our makeover team engages to change the living situation – and the lives – of these deserving families. Military Makeover with Montel EPK