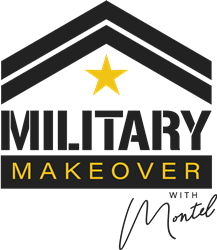 "We are so fortunate to be able to cultivate strong partnerships with national brands, non-profits, and local military communities to make each makeover better than the next."- Mark Alfieri, Founder and CEO of BrandStar.
DEERFIELD BEACH, Fla. (PRWEB) November 01, 2019
In true Military Makeover style, host Montel Williams, cast and crew, special guest WWE Superstar Lacey Evans and equally passionate national brands, give the gift of a beautifully renovated home to decorated military veteran Sgt. Steven Wojcik who had served four years of active duty with the U.S. Marines and, to date, sixteen years in the Army Reserves. The first episode airs on November 8th at 7:30am EST. All aired episodes can be found at militarymakeover.tv.
In 2004, during Sgt. Wojcik's time of Army Reserve service, an IED exploded among vehicles in his convoy. The serious injuries he sustained in the attack led this loving husband and father to an honorable discharge and medical retirement in 2005. Like many veterans, Steven deals with chronic pain, both physical and mental, and has recently opened up about his ongoing struggles with PTSD. Steven works for the Wisconsin State Police and lives in Strum, WI, with his wife Terri and three daughters.
The Wojcik makeover kicked off with JDog Junk Removal & Hauling, a long-time veteran and military-owned company, helping the family move and haul away demolition materials. The Military Makeover team then arrived equipped with donations from Tarkett (floors), ABC Supply (roofing), Goodman Manufacturing (HVAC), MyComputerCareer, Google Nest & GE technology, Dupont (insulating foams), Caesarstone (countertops), furniture and other gifts from all the generous partnerships that the show cultivates. Local companies, volunteers from the community, and WWE Superstar Lacey Evans, a veteran of the U.S. Marines, stepped up to lend a hand in support of the Wojcik family throughout the renovation process. Other brand partners such as Simon Properties treated the Wojcik family to a one day Simon shopping experience, while Kohl's adorned the house with decor. The final reveal unites cast, national brand partners and volunteers, creating a literal "community celebration" of support for the change they created together.
"In the nearly three decades since I retired from the Navy, I've never really taken the uniform off because standing up for those who are serving now and those who have served has been the greatest honor of my professional career." - Montel Williams, Host and Co-Executive Producer
"We are so fortunate to be able to cultivate strong partnerships with national brands, non-profits, and local military communities to make each makeover better than the next."- Mark Alfieri, Founder and CEO of BrandStar
Military Makeover with Montel®, A BrandStar Original, is America's Leading Branded Reality TV Show that offers hope and a helping hand here on the home front to members of our military and their loved ones. A veteran of both the Marine Corps and the Navy, talk show legend and military advocate Montel Williams, who creatively co-produces the show along with a colorful cast that seeks to transform the homes and lives of military families across the country. The cast includes co-host Art Edmond, designer Jennifer Bertrand and contractor Ryan Stanley. This special series enlists caring companies of all sizes as well as non-profits and the local community. Help starts at home for veterans on Military Makeover. Join us as our makeover team engages to change the living situation – and the lives – of these deserving families. Military Makeover with Montel EPK
Season 20 Air Dates on Lifetime, 7:30am EST
Previously aired episodes may be viewed on http://www.militarymakeover.tv
Episode 1: November 8th and November 28th
Episode 2: November 15th and December 5th
Episode 3: November 22nd and December 19th
Episode 4:November 29th and December 26th
Episode 5: December 6th and January 3rd
Episode 6: December 13th and January 9th
Episode 7: December 20th and January 17th