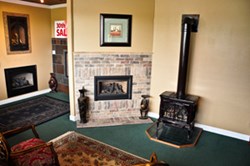 San Mateo, CA (PRWEB) November 25, 2013
Creative Energy, a Bay Area retailer of gas fireplaces, hot tubs, and spa tubs, announced that they now have Avalon fireplaces, stoves, and inserts available for sale.
The move was made because Avalon offers "GreenSmart" products, which allow running of the fireplace in either standing pilot mode, or electronic ignition mode. In standing pilot mode, the pilot flame stays on, which is ideal in very cold climates where it's important to maintain a draft for proper operation. In electronic ignition mode, the pilot flame goes out when the fireplace is turned off, saving money and energy for the consumer. Other advantages with Avalon gas products include push-button control of heat, a thermostat that maintains temperature control, flame technology that looks like a real wood fire, variable flame regulation and heat output, and a huge view of the fire and gorgeous designer faces.
Creative Energy also offers a free backyard consultation, and free price quotes. They also service their products, and perform hot tub cleanings as well. They received an "A+" rating from the Better Business Bureau, and have garnered numerous awards for retail excellence. Online shopping can also be done on their website at http://www.creativeenergy.com/estore.
About the company:
Creative Energy Corporation, founded in 1975 by Rolf Engelhard and Denis Kasten, is the Bay Area's exclusive Hot Spring® Portable Spa dealer. A family-owned and operated business, Creative Energy provides award-winning hot tub, spa tubs, wood burning stoves and gas fireplace service to thousands of satisfied customers at their Bay Area locations in San Rafael, San Mateo, and Pleasanton.
Creative Energy's mission is to be the top spa dealer and service provider in the world. They will accomplish this by retailing the highest quality spa in the industry while maintaining the most knowledgeable, dedicated staff. For more information visit their website, http://www.creativeenergy.com/.