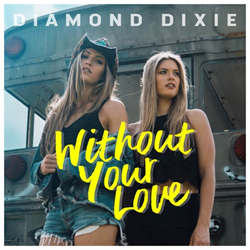 Without Your Love will be the first of a string of massively popular singles that Diamond Dixie produces. You can count on it! -Morgenstein
(PRWEB) June 20, 2019
Country music sensations Gabriela and Bianca LeDuc have just let lightning out of the bag by releasing their newest single, Without Your Love via their wildly popular YouTube Channel (https://www.youtube.com/watch?v=V_kj1DmBIsI) which has over 5 million total views. The group, Diamond Dixie, has opened for Florida Georgia Line and Kenny Chesney to name a few. Playing to sold out shows at places like the House of Blues and other venues, the sisters have built a loyal fanbase of over 600,000 fans that follow their fun and quirky social content on Instagram (@diamonddixiellc), Facebook, and SnapChat.
The semi-autobiographical song speaks to the coming of age for both Gabriela (21) and Bianca (19). As the sisters explore life, music has always been the bonding factor for Gabriela and Bianca. Gabriela sees this newest release as the best song the sisters have written to date, "Bianca and I are like twins. We know each other so well. When we started talking about relationships and what made them so hard to find and how life is so challenging when you don't have love, we knew we had the elements for a great song. We hope this song really emboldens women and men to go seek what makes them passionate including love. It's not a love song, it's a rocking out of emotions that is so universal."
Bianca went on to say, "When Gabriela and I started writing this song, we never thought of it as an anthem for millennials and GenXers, but the feedback we are getting is overwhelming. I hope people use their social media to share the song and let their family and friends feel empowered to find love and happiness." The song, which is bound for country radio nationwide, is available on YouTube, Spotify and other music download apps.
Diamond Dixie's brand manager Evan Morgenstein of PMG sees something changing in the market, "When I met Gabriela and Bianca they clearly had an amazing story, incredible social media presence, intense beauty and a real passion for producing hits. But now they have put everything together. Without Your Love will be the first of a string of massively popular singles that Diamond Dixie produces. You can count on it!"
The single was produced by industry veteran Robby Stevens and recorded with virtuoso Joe Carrell and Warm Audio.
To book Diamond Dixie for corporate events, fairs, festivals, social media collaborations or national endorsement campaigns, contact Christina Brennan VP, Premier Management Group christina@pmgsports.com or via her linkedin (https://www.linkedin.com/in/christina-brennan-197237107/)