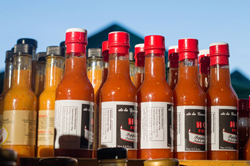 There's just so much to love about this company, and their Hot Sauce Club has earned them a five-star rating.
OVERLAND PARK, Kan. (PRWEB) December 30, 2020
TopConsumerReviews.com recently gave its best-in-class 5-star rating to HEAT Hot Sauce Shop, a newcomer rapidly making a name for itself among Hot Sauce Clubs.
Subscription boxes have become a popular way of getting introduced to new products from around the world, and Hot Sauce Clubs definitely bring the heat. Whether purchased as a one-of-a-kind gift membership for a loved one or for one's own enjoyment, these clubs deliver a taste experience like no other. Most deliveries include one or two full-sized bottles of hot sauce not available in local supermarkets, typically sourced from small-batch artisans who may only offer their products online or at farmer's markets. There's no better way to spice up a meal than with a new hot sauce, and subscribing to a club brings the surprises each month.
"There are a lot of terrific Hot Sauce Clubs out there, but HEAT Hot Sauce Shop has captured our attention," affirmed Brian Dolezal of TopConsumerReviews.com, LLC. "Curated by a couple of young entrepreneurs in California, this hot sauce club has one of the most affordable entry points we've found: just $13.99 per month for a one-bottle subscription, and no extra charges for shipping. And, for those who want a little extra punch, HEAT also offers a three-bottle plan. Everyone gets some fun freebies in their first box, and becoming a subscriber means that you'll get to try new flavors — even before they're released in-store. There's just so much to love about this company, and their Hot Sauce Club has earned them a five-star rating. We're pleased to name HEAT Hot Sauce Shop as our newest first-place winner among Hot Sauce Clubs in 2020."
To find out more about HEAT Hot Sauce Shop and other providers of Hot Sauce Clubs, including reviews and comparison rankings, please visit the Hot Sauce Clubs category of TopConsumerReviews.com at https://www.topconsumerreviews.com/best-hot-sauce-clubs/.
About HEAT Hot Sauce Shop
HEAT Hot Sauce Shop is the creation of Dylan Keenen and Becky Gibbons, two young chileheads on a mission to share their passion for all things spicy. In 2013, they started Heat Hot Sauce Shop in Berkeley, offering daily tastings at their hot sauce tasting bar. This experience giving tastings, as well as going to hot sauce expos and trying thousands of hot sauces, has given the duo lots of insight into flavors people like, and that experience informs the carefully-curated selections for the Hot Sauce of the Month Club.
About TopConsumerReviews.com
TopConsumerReviews.com, LLC is a leading provider of reviews and rankings for thousands of consumer products and services. From Hot Sauce Clubs to Coffee Clubs and Chocolate Stores, TopConsumerReviews.com delivers in-depth product evaluations in order to make purchasing decisions easier.