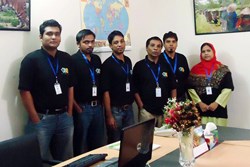 Hotel Link Solutions has created a high-quality resource and developed a world-class online-services platform
Dhaka, Bangladesh (PRWEB) July 31, 2013
Having recently announced the signing of its 50th hotel client, Hotel Link Solutions, the global specialist in digital-marketing products for accommodation providers, has found another strong South Asian foothold – Bangladesh.
Especially in this country where, compared to its South Asian neighbors, Bangladesh has not yet fully leveraged its tourism potential, the scope of opportunity is clear. Largely undiscovered and not yet commanding the same travel cache as India and Nepal, Bangladesh nevertheless claims nearly 3,000 hotels, a great many of which are not digitally optimized.
"As the whole world is getting digitalized day by day, accommodation providers should look out for any great opportunity to utilize new online marketing solutions," shared Yousuf Ali, CEO of Hotel Link Solutions Bangladesh. "As the tourism industry places as much emphasis on a country's material facilities as its actual charms, Hotel Link Solutions is ready and able to provide critical support for the complete package!"
This is all the more important as growing attention from the international business community is being paid to Bangladesh, bringing with it many more visitors, investors and tourists than ever before.
"Even though a lot of training will be required, Hotel Link Solutions has definitely knocked on Bangladesh's door at just the right time," continued Ali, who hopes to bring online marketing solutions to bear – including fully functional mobile-ready websites and comprehensive, cost-effective channel management – in every small and medium hotel in Bangladesh. Plans are to visit 700-800 hotels by the end of 2013.
"Hotel Link Solutions has created a high-quality resource and developed a world-class online-services platform," concluded Ali. "With this technology, hoteliers can earn more as they will receive more guests. Moreover, the government will secure revenue as the country develops. We are proud of our success and being the local partner of Hotel Link Solutions."
About Hotel Link Solutions
Hotel Link Solutions is a first-generation digital-marketing services provider for the accommodation industry. As a WHL Group and ResOnline joint venture, Hotel Link Solutions has tapped deep resources and wide industry reach to develop a world-class and competitive range of products. Hotel Link Solutions is committed to building a sustainable future for travel and to ensuring that all relationships with clients, staff, business partners and host communities are win-win.
For more information, visit hotellinksolutions.com or contact Yousuf Ali at yousuf(at)hlsbangladesh(dot)com or on +88 0161 0118693.