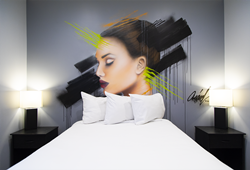 We are proud to give guests an immersive experience inside the hotel that reflects the type of creative spirit they'll find outside in the West Loop.
CHICAGO (PRWEB) November 02, 2021
Hotel Chicago West Loop, an independent boutique concept inspired by the artistic ethos of its West Loop neighborhood, has become Chicago's first hotel to bring street art inside to every guestroom. The dual-purpose property that doubles as an alternative gallery launched its highly acclaimed Annex Murals exhibit in 2018 to give guests a fully immersive cultural experience by offering 15 hand-painted rooms by 12 of Chicago's most celebrated urban artists – prominent names like Asend, JC Rivera, and Eloo. As of today, all 116 rooms at Hotel Chicago West Loop have been decorated with street murals thus offering some of the most distinctive lodging spaces in the city.
"As Chicago's neighborhood hotel and art gallery, we are proud to give guests an immersive experience inside the hotel that reflects the type of creative spirit they'll find outside in the West Loop," said Hotel Chicago West Loop General Manager Andrew Hilliker.
Located near to some of the most forward-thinking creative minds in the nation, from Michelin-starred culinary artists on Randolph to big tech starchitects on Fulton Market, Hotel Chicago West Loop didn't need to look far to model its creative identity. In addition to the 116 mural rooms, the Annex galleries at Hotel Chicago West Loop encompass the lobby and all four levels of guest hallways with over 100 pieces of 2-D media, both permanent works and rotating exhibits. The Annex Murals program adds a unique element to the typical art-hotel concept by pulling visitors beyond the public space and into the guestrooms for viewing. The floor-to-ceiling graffiti and oil-based murals, which cover one to all four walls of each guestroom, feature various tributes to Chicago life along with signature elements from well-known street artists such as JC Rivera's Bearchamp or Eloo's Honeybear and Classic Donuts.
More About Hotel Chicago West Loop:
Located in the city's most vibrant neighborhood only steps away from world-class cuisine, entertainment, and tech giants, Hotel Chicago West Loop was created for convenience. For those who like the idea of walking to a sports game or a concert, the United Center is less than 2,000 feet away. Looking to stay near a loved who's in the hospital, or take an express train to O'Hare? The Illinois Medical District and the Blue Line are both within three blocks. Inside the 116-room boutique property you'll find many more convenient touches, such as complimentary WiFi, beds with memory foam mattresses, flat-screen TVs, coffee machines, microwaves, dedicated work areas, and a 24-hour fitness center, business center and front desk. A stay at Hotel Chicago West Loop is also a cultural experience, as the entire property doubles as a full-functioning art gallery with public spaces featuring rotating exhibitions and guestrooms hand-painted by Chicago's leading urban artists. A private parking lot is the cherry on top of this little gem of a hotel that USA Today has called one of the best affordable hotels in Chicago.
https://www.hotelchicagowestloop.com/
1622 W Jackson Blvd Chicago, IL 60612
(312) 243-2900
IG:@hotelchicago