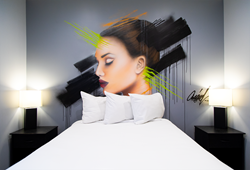 We are continuing to deliver a uniquely dual-purpose hotel/gallery concept.
CHICAGO (PRWEB) September 20, 2018
The boutique Hotel Chicago West Loop is swiftly making its mark as a cultural hotspot. This fall the hotel celebrates its one-year anniversary as a dual-purpose arts venue with an unveiling of the latest additions to its renowned Annex | Murals exhibit. Four more street murals (painted inside guestrooms) were added to the growing Annex | Murals initiative by four of Chicago's leading urban artists: Asend, Elloo, Brandin Hurley, and Josh Grotto. These works join two others made earlier this spring by Asend, who was brought back by popular demand, and JC Rivera, for a total of six unique street murals. The work of the diverse yet noteworthy artists can be seen around Chicago and beyond. (A short video of the recently completed installs at Hotel Chicago West Loop can be seen by clicking here, or high resolution still photos can be obtained by contacting jody@grimaldipr.com).
On October 11th between 5 pm and 8 pm at Hotel Chicago West Loop, an official opening reception celebrating the next chapter of The Annex | Murals program will be open to the public. Not only has the independent hotel managed by Portfolio Hotels & Resorts doubled the number of contributing artists since the program launched in April, including its first two female artists, but this install marks a step-up in the pace of programming. Hotel Chicago West Loop plans to eventually decorate the majority of its 116 guestrooms with street murals, with new installs taking place at least twice a year. When not in use, the featured street mural exhibit rooms are open and on public display – as is the rest of The Annex in effort to produce an alternative gallery experience for visitors.
"We are continuing to deliver a uniquely dual-purpose hotel/gallery concept in order to stand out from the crowded boutique hotel marketplace and give guests a cultural experience that identifies with Chicago," said Hotel Chicago West Loop General Manager Juan Monroig. "This hotel is proud to feature guestrooms that are truly works of art!"
The Annex currently encompasses the hotel lobby and all four levels of guest hallway spaces, with over 100 pieces of 2-D media, both permanent works and rotating exhibits. The Annex | Murals program adds another element to the hotel/gallery concept by pulling visitors beyond the public space and into the guestrooms for viewing. The contributing street artists have created floor-to-ceiling wall murals inside guestrooms with themes that incorporate Chicago. Hotel guests may reserve a room with a street mural by booking the Annex Experience or put 10% of their room rate (from a stay in any of the hotel's 116 rooms) towards an alternating Chicago art's charity by booking the Annex Rate (more in footer).
Descriptions on contributing artist follow:
Asend's work can be seen across Chicago and internationally: it is part of private collections and public projects, has been featured at blue-chip art fairs like Art Basel, and commissioned by corporate giants like Chevy, Estrella Jalisco, Pandora Music, Motorola and others. "I am working on a series that focus on a classical approach to portraiture, with contemporary/colorful grounds. I intend to push the contrast of aesthetics to their limits while maintaining a cohesive whole." Both of Asend's murals at Hotel Chicago West Loop (the first was completed in spring 2018) feature a female visage against loose ground, but if the viewer looks carefully, they can appreciate harmony and mark the Artist's evolution in progress.
Elloo's work is a loveable compilation of her favorite things, memories, and experiences. She hails from Chicago's Pilsen neighborhood, and has fond memories of trips to ice cream parlors or pastry shops with friends and family. Her mural at Hotel Chicago West Loop features her honeybear and classic doughnuts. She is also famous for her monsters. An art historian may claim Elloo's figures reference Alfeñiques or Day of the Dead skeletons, or a friend may say it's a spin of a personal love of drawing old people, but according to Elloo, "it's more fun to think the best in life can be rolled up into one adorable every-monster."
Brandin Hurley the visual artist is far more focused on sentiment. The piece she created for The Annex at Hotel Chicago West Loop is elegant and dreamy, brilliant and soft. Her aim is to create work that transcends and moves the viewer to another state of mind. "I have always been fascinated by the blurred line between waking life and dreams, reality and perception. As an artist, I try to live in a space full of awe and wonder. My role is making it visible to others."
Josh Grotto studied painting and graphic design at the School of the Art Institute of Chicago. His work draws from urban culture literally and figuratively. He develops type characters from fragments until something universal and recognizable solidifies. Grotto's works is graphic, gritty, and altogether seductive. It references cubism, abstract expressionism, traditional portraiture, and collage. Like all of Grotto's work, the piece at Hotel Chicago West Loop is visually catchy and deeply meaningful. It is a visual reference to a short story/poem by National Book Award winning author Nelson Algren called "Love is for Barflys" from Chicago: City on the Make.
About The Annex: The unique focus of Hotel Chicago West Loop is on delivering a dual-purpose concept; stylish, value-driven accommodations fused with a cultural experience in the arts. The Annex gallery was launched in fall 2017 at Hotel Chicago West Loop and has evolved significantly since. At the outset, The Annex encompassed the lobby and all four levels of guest halls, and featured photography collected or made by local patron and artist Helmut Horn. These works remain on view (The Annex | Permanent Collection). In early 2018, the hotel decided to expand their commitment to The Annex art program, and launched The Annex | Murals, an ongoing initiative that has yielded to date six unique works in guestrooms by Chicago-based street artists (rooms may be reserved by request by referencing The Annex Experience at time of booking). The Annex also partners with local universities, galleries and other art programs to deliver cutting-edge, rotating exhibits on a regular basis.
About Giving Back - The "ANNEX" Rate: To further support the local arts community, Hotel Chicago West Loop is also dedicated to art appreciation as a charitable endeavor. The hotel selects one art charity a year to benefit. When guests book a room with the special code "ANNEX," 10% of the regular room rate from a stay in any of its 116 guestrooms gets donated to a designated non-profit that promotes artistry in the local community. The hotel worked with the Art Alliance Illinois in 2017 and is working with the Art Therapy program at Shirley Ryan AbilityLab in 2018/19. Overnight rates at Hotel Chicago West Loop start at an affordable $119 nightly.
Hotel Chicago West Loop:
1622 W Jackson Blvd, Chicago, IL 60612
Phone: (312) 243-2900
http://www.hotelchicagowestloop.com