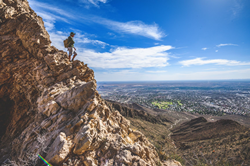 EL PASO, Texas (PRWEB) February 09, 2021
Located aside the Franklin Mountains in El Paso, Texas; Hotel Paso del Norte, Autograph Collection is synonymous with the history and story of El Paso. Built in 1912 and on the National Register of Historic Places, this architectural feat just re-opened after a multi-million-dollar restoration. The opulent hotel is located aside Franklin Mountains State Park where ample outdoor adventures await for hikers, bikers, and nature lovers. El Paso is also a short drive to three National Parks including White Sands, Guadalupe Mountains, and Carlsbad Caverns; making the destination an ideal balance of glamour and outdoor adventure for solo trips, couples, and families. Plus, El Paso is an easy drive. It is a major stop on IH10 connecting California, Arizona, New Mexico, Texas, Louisiana, Mississippi, Alabama, and Florida.
Managed by Greenwood Hospitality, the hotel's beautifully preserved features include their trademark Tiffany-style, stained-glass dome ceiling that reaches 25 feet in diameter as well as original light fixtures and Native American carvings. As part of the recent renovation, the glamour of the modern era has been added with luxurious finishes and an open and airy layout that incorporates the hotel's beautiful mountain views and outdoor spaces. Its 351 luxurious guest rooms are appointed with plush furnishing and curated art pieces. Lavish amenities include the 10th floor rooftop pool, fitness center, and, boutique.
Within Hotel Paso del Norte, a distinct culinary scene is the property's signature feature. Here, diners enjoy the best of El Paso with Sabor, an exclusive cantina that offers the best of El Paso for breakfast, lunch and dinner. Every element of the experience is curated: cuisines, libations, décor, lighting, music, styles of service, silver, china, and glassware. The hotel's Dome Bar is a destination unto itself with events, entertainment, and drink specials.
Plus, Hotel Paso del Norte is located in downtown El Paso—an easy-to-navigate, walkable destination with parks, restaurants, museums, The Plaza Theater, a ball park and convention center. A charming streetcar system connects these downtown attractions.
Covid-19 safety is of critical important to Hotel Paso del Norte. This hotel was among the first in the world to install a virus-killing air filtration system throughout the entire property providing additional protection in common areas, bars, restaurants, hallways, ballrooms, meeting rooms, fitness center, and all guest rooms.