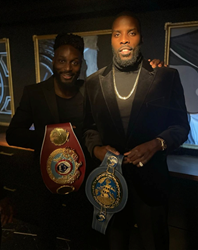 $30,000 in hotel stays to be awarded on Lawrence Okolie's #RoadToUnification campaign to unify all Cruiserweight World Championship belts, courtesy of @hotelplanner
WEST PALM BEACH, Fla. (PRWEB) June 07, 2021
HotelPlanner, a top seller of individual hotel bookings and the world's largest group booking site, along with World Boxing Organization (WBO) Cruiserweight World Champion Lawrence Okolie, are today announcing their "Road to Unification" partnership and campaign. The campaign will reward fans with free hotel credits throughout Lawrence Okolie's journey to unify all the Cruiserweight World Championship belts.
HotelPlanner is pledging $30,000 in free hotel rooms to his fans. Lawrence will pick 10 lucky fans per week for 10 weeks to win $300 in free hotel booking vouchers courtesy of HotelPlanner. Lawrence fans will enter to win by commenting on his weekly "Road to Unification" videos on his Instagram and Twitter.
Lawrence Okolie is an unbeaten Hackney, London-born boxer who is the first from Great Britain's 2016 Olympic team to win a professional world title. Lawrence achieved the world title in just 16 professional fights, and is on his way to becoming the undisputed and undefeated cruiserweight champion of the world. Lawrence is a compelling character, also known as "The Sauce," who adds British rapper and author to his talent list. Lawrence never forgets his humble roots in Hackney. Giving back to everyone who follows him on his road to unification is extremely important to him.
"We are very excited to be partnering with WBO Cruiserweight World Champion Lawrence Okolie, who is the best in the business," says Tim Hentschel, Co-Founder and CEO, HotelPlanner. "His determination, drive, and hard work are skills necessary to exhibit peak performance. As an ambassador and spokesperson for HotelPlanner's 'Road to Unification' campaign, Lawrence will represent our company well by showing how important it is to support athletes who travel frequently. Travel should not interfere with performance. Lawrence will showcase how HotelPlanner makes it easy to create reservations and book hotel stays even up to the last minute to alleviate any added stressors."
"We are delighted to work with Lawrence, who represents a phenomenal story of a young child who experienced bullying whilst clinically obese," says Ola Jacob, a Diversity, Equity and Inclusion ambassador to HotelPlanner. "After turning to boxing as a means to lose weight, he became inspired by Anthony Joshua's Olympic Gold. He then began his journey to becoming an Olympian and now WBO Cruiserweight World Champion. He constantly reminds anyone he comes into contact with that you can achieve anything you put your whole heart into. Lawrence will take no prisoners on his 'Road to Unification,' as he collects all the world titles in a 'Thanos like' display."
"I don't think there is anything special about me. I hope to inspire more people through this fantastic partnership with HotelPlanner," says Lawrence Okolie. "It's an honor to partner with HotelPlanner to share my journey on 'The Road to Unification' with my fans who have supported me and pushed me to achieve more. This campaign speaks to me because I can give back to everyone who supports me and share the message that you can achieve anything with the right mindset."
# # #
About HotelPlanner
HotelPlanner is a top seller of individual hotel bookings offering discount rates to membership groups or "Closed User Group rates." We are the world's largest seller of online group hotel bookings, and a leading provider of custom hotel booking solutions. The company offers the best deals in individual, group and corporate travel by combining advanced artificial intelligence and machine learning technology to quickly serve all traveler hotel needs from a single platform. HotelPlanner has enduring partnerships with well-known hotel chains, individual hotels, the world's largest OTAs, large online wedding providers, ancillary lodging providers, corporations, sports franchises, universities, and government agencies.
Learn more about us at http://hotelplanner.com
About Lawrence Okolie
Lawrence Okolie was born in Hackney, London to Nigerian parents. Inspired by Anthony Joshua, Lawrence decided to become a boxer in 2012. He represented Great Britain in the 2016 Rio Olympics and turned professional boxer in 2017, going on to win the British, European, Commonwealth and WBA Continental Cruiserweight Champion belts in quick succession. Recently, Lawrence Okolie delivered a punch-perfect display before landing a sixth-round knockout of Krzysztof Glowacki to become WBO world cruiserweight champion at Wembley in March. Outside of boxing, Lawrence has recently released his first book in conjunction with Fearne Cotton's Happy Place imprint called 'Dare To Change Your Life' while also launching a rap career. He's happy, healthy and stands tall at 6 ft 5 inches.
Follow Lawrence Okolie's journey on his Instagram and Twitter. Use hashtag #RoadToUnification.