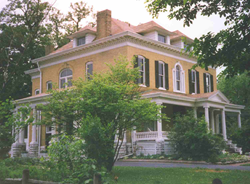 You are now representing the top 3% of accommodations worldwide for customer satisfaction.
ALTON, Ill. (PRWEB) August 15, 2018
HotelsCombined, the Australian-based hotel meta-search company, has awarded the St. Louis area Beall Mansion An Elegant Bed & Breakfast Inn the 2018 HotelsCombined Recognition of Excellence. This is the second year in a row the property has received the honor.
The award is in recognition for consistently achieving the highest standards of Customer Satisfaction worldwide. HotelsCombined undertook the largest analysis of customer opinions online - across millions of points of data - providing a complete and comprehensive understanding of over 1,000,000 hotels worldwide.
In a letter to The Beall Mansion, Melinda Balazs, HotelsCombined Award Program Manager, stated, "We found and processed 450 opinions that guests have posted on a variety of different websites, forums and social media, resulting in an incredible score of 10 out of a possible 10. You are now representing the top 3% of accommodations worldwide for customer satisfaction."
Beall Mansion owners, Jim and Sandy Belote commented, "We can think of no better way of celebrating the 20th anniversary of opening The Beall Mansion as a bed and breakfast inn than by receiving this award. It says to the world that Alton, IL and the St. Louis area can compete with the best of the best - including Chicago, New York, Cancun, Dubai, Paris, London, Venice, Barcelona Prague, Singapore, and Tokyo. It is more than just recognition of The Beall Mansion. It is recognition of our region as a world class destination. It is recognition of the tireless efforts of countless organizations and individuals that have worked so hard to make it so."
The Belotes continued, "We would like to thank our incredible staff including our assistants Marilou Fine and Gemma Reed, Alton Regional Convention & Visitors Bureau, St. Louis Convention & Visitors Commission, and of course our tens of thousands of valued guests."
Previous 2018 Beall Mansion honors and awards include TripAdvisor Certificate of Excellence, TripAdvisor Hall of Fame, 50 Best B&Bs in America and Best B&B in Illinois – The Daily Meal.
In 2014 the Belote's were honored at the Governor's Conference on Travel and Tourism with a Lincoln Award Gold Medal - the highest award provided by the state of Illinois for Excellence in Travel and Tourism.
Alberto Castellucchio, market manager of HotelsCombined United States concluded, "We are thrilled to be working with the best hotels in the United States and Beall Mansion An Elegant Bed & Breakfast Inn is certainly among them. … With HotelsCombined, 30 million people are finding the best deal available on-line every month. With this award, we'd like to make it even easier for every traveler to identify the best hotels for customer service and therefore the best value for their money."
About The Beall Mansion
The Beall Mansion is 25 minutes from the St. Louis Gateway Arch on Millionaire's Row in the Middletown Historic District of Alton, IL.
The mansion was built in 1903 as a wedding gift by railroad baron Z. B. Job. In 1909 the property was purchased by Edmond Beall – four time Alton Mayor, Senator, industrialist, and financier. The Belotes purchased the mansion in 1996 and began an extensive restoration that continues until this day. In 1998 they opened it to the public as an upscale bed and breakfast inn.
For more information about the Beall Mansion or to schedule a narrated tour visit https://beallmansion.com or call 618-474-9100 or toll free 1-866-The-BEALL (1-866-843-2325).
About HotelsCombined
HotelsCombined.com is the world's largest hotel search engine that combines all hotel deals from the best travel sites into one free, quick and easy search. It was recognized World's Leading Hotel Comparison Website 2013, 2014, 2015, and 2016. - World Travel Awards
For more information about HotelsCombined visit: https://www.hotelscombined.com.